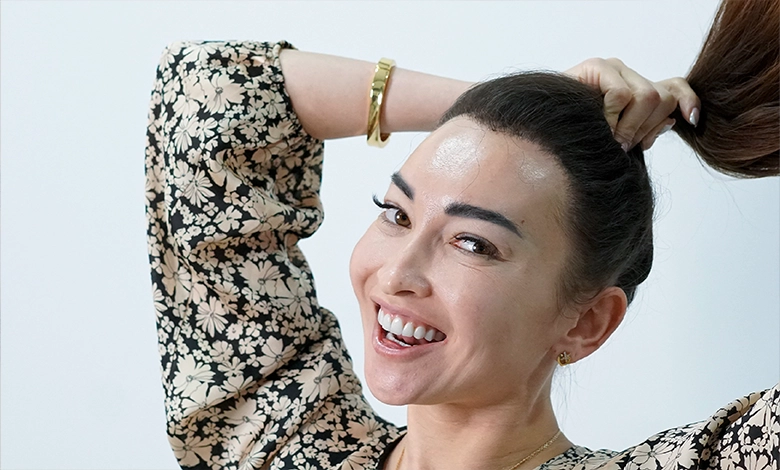 Hairline surgery for women is a specialized treatment that aims to decrease the height of the forehead while creating a harmonious and proportionate hairline.
The procedure usually takes no more than 6-7 hours and requires local anesthesia. Mild side effects may manifest but are short-lived and diminish within a few days.
This treatment can work wonders for women who desire a more youthful and confident appearance. It is crucial to select an adept and certified surgeon for optimal results.
Hairline surgery for women is a procedure designed to reduce the height of the forehead and create a more balanced and symmetrical hairline. It is typically performed under local anesthesia, taking approximately 6-7 hours. Women may experience some side effects, though these typically subside within a few days. Hairline surgery can help women achieve a more youthful appearance and boost their self-confidence. Choosing an experienced and qualified surgeon is essential for proper treatment.
Hair loss affects both men and women, and it can be a significant source of distress and low self-esteem. If you're a woman experiencing hair loss, you might be considering a hair transplant to regain your confidence and restore your hair's natural beauty. Hair transplant Turkey has become an increasingly popular destination for this life-changing procedure, and for good reasons!
Hair transplant Turkey offers world-class hair transplant services, combining state-of-the-art technology, highly skilled surgeons, and affordable prices.
Restore Your Hairline with a Female Hair Transplant
A female hair transplant is a popular procedure for tackling hair loss. Thanks to its rapid recovery rates and natural-looking results, hair transplants for women have become increasingly popular. The process utilizes the same industry-leading FUE hair transplant technique used for men, women, and facial hair to regenerate lasting growth in areas of concern.
Hair loss in women is relatively common, and the causes can depend on genetics and lifestyle. This can include forms of alopecia, hereditary conditions, and hormonal imbalances. Discussing hair loss in women with your doctor or the team at Vera Clinic, a hair transplant clinic Turkey can help establish the underlying causes of female hair loss causes and whether a female hair transplant in Turkey is suitable.
Female Hair Transplant Advantages
A female hair transplant in Turkey is popular amongst our patients due to its advantages over other procedures such as an FUT hair transplant. The nature of the technique comes with significantly fewer risks than alternative treatments and results that are just as effective. Advantages include:
Minimal pain and discomfort following your procedure.
Virtually non-existent scarring, giving you a natural-looking hairline.
Improves your confidence with a full head of hair.
Less downtime, allowing you to get back to normality in no time.
Ensures natural results with no obvious signs of FUE treatment.
Minimal risk of complications compared to other surgical procedures.
Why Choose Vera Clinic for a Female Hair Transplant in Turkey?
There are many reasons to choose Vera Clinic, the best hair transplant clinic Turkey for your female hair transplant, and our reviews speak for themselves. Here are some of the key reasons you should book with us:
✓ State-of-the-art facilities
✓ Qualified and experienced medical team
✓ Accommodation and onward travel included
✓ Expert aftercare and patient care
✓ High-quality standards of service
✓ Permanent, natural-looking results
✓ Trusted destination for medical tourists
✓ Affordable procedure costs
Turkey has become a leading destination for hair transplant procedures due to several more factors, including:
High-quality treatment at affordable prices: Turkey hair transplant cost is significantly lower than in other countries, such as the United States or the United Kingdom. The lower cost doesn't mean lower quality; Vera Clinic offers cutting-edge technology, and highly skilled professionals.
A large number of experienced surgeons: Vera Clinic, a hair transplant clinic Turkey has a high number of hair transplant doctors who are experienced and knowledgeable in the latest techniques and technologies. This ensures that you will receive excellent care and a successful outcome.
Comprehensive hair transplant Turkey packages: Vera Clinic offers all-inclusive hair transplant turkey packages, which include the procedure, accommodation, transportation, and post-operative care. This makes the whole process easier and more convenient for international patients.
Stunning destinations for recovery: Turkey is a beautiful country with a rich history and culture. Istanbul, in particular, is an incredible city with a mix of Eastern and Western influences. After your hair transplant in Turkey, you can enjoy exploring this vibrant city as you recover.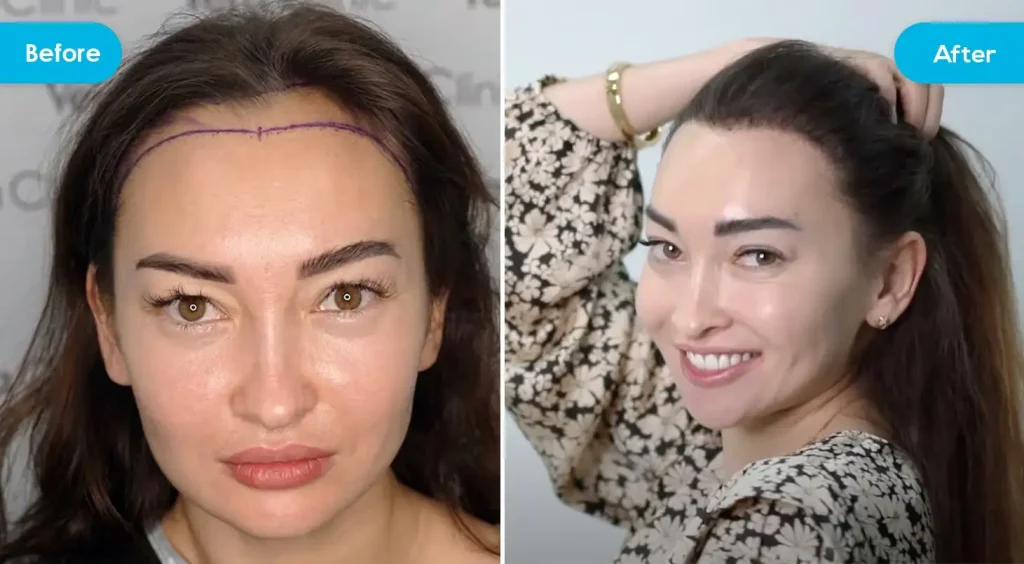 Am I Eligible for a Female Hair Transplant?
1- Cause of Hair Loss
Those with certain conditions are eligible for a hair transplant Turkey. These include Androgenetic alopecia, Traction alopecia, alopecia marginalized, and Trauma hair loss (scarring/burning). Some causes of hair loss can be stopped, for example, stress hair loss, imbalanced hormones, a vitamin deficiency, or haircare. That's why we recommend having a detailed examination and blood test before coming to the clinic..
2 – Donor Hair Density
Before we qualify you for a female hair loss transplant, we will need to assess your hair and check a few factors, including a donor site on the scalp. Before you go ahead with the hair transplant, there will need to be enough hair on your scalp to extract a section for the hair transplant. This section will act as the donor, and we will transfer hair follicles to the problematic area from here. With enough donor hair density, a hair transplant may be successful. Still, we can assess your suitability for this and other treatments at a consultation.
There are Two Main Methods of Hair Transplantation
If we are going to plant with Sapphire FUE or DHI method in female patients, we do not cut the entire donor area of our patient. We open a window in the middle of the donor and get the required number of grafts from here. Thus, after the procedure, our patient can throw his hair back and camouflage the window there until the donor's hair grows back.
If our patient does not want to shave in the transplantation area, we can choose DHI, if shaving a small area is not a problem, we can choose Sapphire FUE, whichever our patient prefers.
Your surgeon will determine the best technique for you based on your hair type, extent of hair loss, and personal preferences.
The Process of a Female Hair Transplant
Before you undergo the hair transplant, you should know what happens in the procedure to get yourself ready for the operation. Here are the steps for a hair transplant clinic Turkey for women broken down:
Hair follicles are extracted from donor regions (an area where hair loss does not occur and there is a dense amount of growth).
Hair follicles are extracted, and the harvested follicles are grafted.
The hair follicles are implanted into areas of hair loss in a minimally invasive way, regenerating lasting hair growth in problem areas.
The process takes between 6 to 7 hours.
The recovery rate is rapid, leaving you with minimal scarring, natural-looking results, and negligible levels of discomfort.
Once the procedure is finished, you must be careful with your hair and follow the aftercare we recommend at the best hair transplant clinic Turkey; Vera Clinic. Luckily, you will get an aftercare pack included to use post-operation.
1 – Before the Treatment
Enjoy a free hair analysis to ensure a hair transplant suits your needs.
Free Virtual Consultation
A free, bespoke consultation to ensure you have the best results from one of our expert consultants.
Our team will look after you from day 1 and are available 24/7
2 – During the Treatment
We can help to arrange VIP transport to and from the airport, as well as to our hair clinic for your treatment.
We will assist with arranging accommodation for your stay. Hence, you feel safe and comfortable for the duration of your trip.
We offer translation services to assist you during your trip. We speak your language!
We will provide you with all the medication and care you require as part of your journey.
3 – After the Treatment
We offer regular checkups with our expert team to ensure your cosmetic procedure is healing correctly.
We believe in value and quality over quantity, so we offer a guarantee on our treatments.
We will provide consistent advice post-procedure on additional treatments which may assist with your long-term results.
Procedure Time – 6-7 hours
Anesthetic – Local anesthetic
Recovery Time – Minimal downtime
Accommodation & Transfer – Included
Following Your Female Hair Transplants in Turkey
Immediately After
It is essential to follow the aftercare tips we recommend post-operation. If you don't follow the instructions correctly, you could have an infection in your hair transplant. Following your treatment, the recovery time is minimal, meaning no impact on your everyday life. You may experience slight swelling or soreness in the areas which have been operated on. This is normal and should fade out within a few days.
Initial After Care
We provide each patient with our aftercare kit to help with healing, containing information on managing the transplanted hairs and eliminating scarring. It will also include shampoos, creams, antibacterial serums, and painkillers designed to be gentle on the scalp, encouraging quicker healing.
3 – 4 Weeks After
Around 3 to 4 weeks after the hair transplant procedure, it is normal to experience shedding of the transplanted hair. You can expect new hair growth within a couple of months. The best outcome can be seen after a year, but significant changes in hair growth can be noticed around 4 to 6 months after the surgery.
Female Hair Transplant FAQs
How can I tackle hair thinning at temples for females?
Female hair loss at the frontal hairline usually is where hair loss starts to become an issue for women, affecting their confidence and noticing the hair reduction. Hair thinning at the temples is a common reason for women looking into hair surgery for women; undergoing a hairline transplant for women to achieve the desired hairline and reduce female hair loss at the frontal hairline.
Is hair surgery for women appropriate for menopause hair loss?
Hair loss in women is particularly average throughout menopause. The change in hormones can lead to an increase in menopause hair loss, one of the first side effects that women notice. A hairline transplant for women can help restore the hair in areas where it is thinning for a long-lasting solution.
Is the aftercare for hair transplants for women the same as hair transplants for men?
Yes, the aftercare you will need to carry out post-operation is very similar to the aftercare we recommend to those who undergo any of our other transplants, including FUE hair transplants, DHI hair transplants, and Sapphire hair transplants. The basics you will need to ensure you follow are not rubbing your head or touching it after the operation, and generally being very gentle with your scalp.
We include an aftercare kit in the operation price. This kit is designed to rub the scalp and encourage a quicker healing time gently. Ensure you use the included products daily after your hair transplant in Turkey for women. You can view our hair transplant aftercare guide for more details on washing instructions, healing time, etc.
What shouldn't you do after a female hair transplant?
After your hair transplant, you must be very careful with the area on your scalp as it will be delicate. Ensure you don't irritate it by scrubbing it hard or using shampoo or products we haven't recommended. Find our dos and don't dos after a hair transplant blog to ensure you don't aggravate the area by accident.
What should I do if female hair loss is causing me psychological stress?
If you are feeling very stressed down to losing hair, which has a psychological impact, you are not alone. Many women feel shocked when they start losing hair as their appearance changes. Women suffering from female pattern baldness are much more confident and feel back to themselves after undergoing the operation.
Can diet be a cause of hair loss for women?
Yes, the diet has been linked to hair loss in women, especially vitamin deficiencies and lack of certain nutrients. Those who tend to crash diet and not eat balanced meals regularly could be at greater risk of losing hair, and dramatically restricting calories has been linked to a lack of protein, fatty acids, and zinc.
How much does a female hair transplant cost in Turkey?
Hair loss is a common issue that affects both men and women around the world. However, it can be particularly distressing for women, as their hair is often considered a symbol of femininity and beauty. Female hair loss can be caused by a variety of factors, such as genetics, hormonal changes, stress, and medical conditions. Fortunately, there are various hair restoration treatments available to help women regain their confidence and feel beautiful again. One such treatment is a female hair transplant, which involves transplanting hair follicles from the donor area to the balding or thinning areas of the scalp. While hair transplant surgery can be quite expensive in some countries, Turkey has emerged as a popular destination for affordable and high-quality hair transplant procedures. Female hair transplant costs at Vera Clinic are 3000-3500 EUR.
Can I have more than one type of treatment at once?
When seeking a consultation for a hair transplant, if you desire a full beard and mustache, our experts can suggest the number of grafts required for the desired outcome. Our clinic offers the option for patients to undergo multiple types of treatments, such as addressing hair loss and thinning beard simultaneously, or even combining cosmetic procedures like Hollywood Smile and new sideburns. We can customize the treatments according to your preferences.