Finding the Best Hair Transplant Clinic in Turkey: Unveiling Before & After Results
Our proven results speak for themselves – witness the amazing transformations in our verified before and after photos. Trust us to deliver personalized treatments for all types of baldness!
Use our user-friendly hair graft calculator to determine the hair grafts based on your unique Norwood Scale hair loss pattern. Take control of your consultation by understanding your specific requirements.
Browse our before and after photos for natural-looking hairlines and evenly distributed grafts that correspond to your hair type and degree of baldness, such as the Norwood type. Restore density and achieve a youthful appearance with our step-by-step process!
Experience our commitment to delivering high-quality and consistent results on social media. Boost your confidence with a hair transplant that will transform your life.
Hear from our satisfied patients who have similar hair loss patterns. Discover the unrivaled quality of our results, professionalism, and post-operative care!
Ready to take the first step? Schedule a consultation with our experienced team. Receive a professional evaluation of your hair loss condition, discuss your expectations, and gain insights into the possibilities and limitations of your procedure!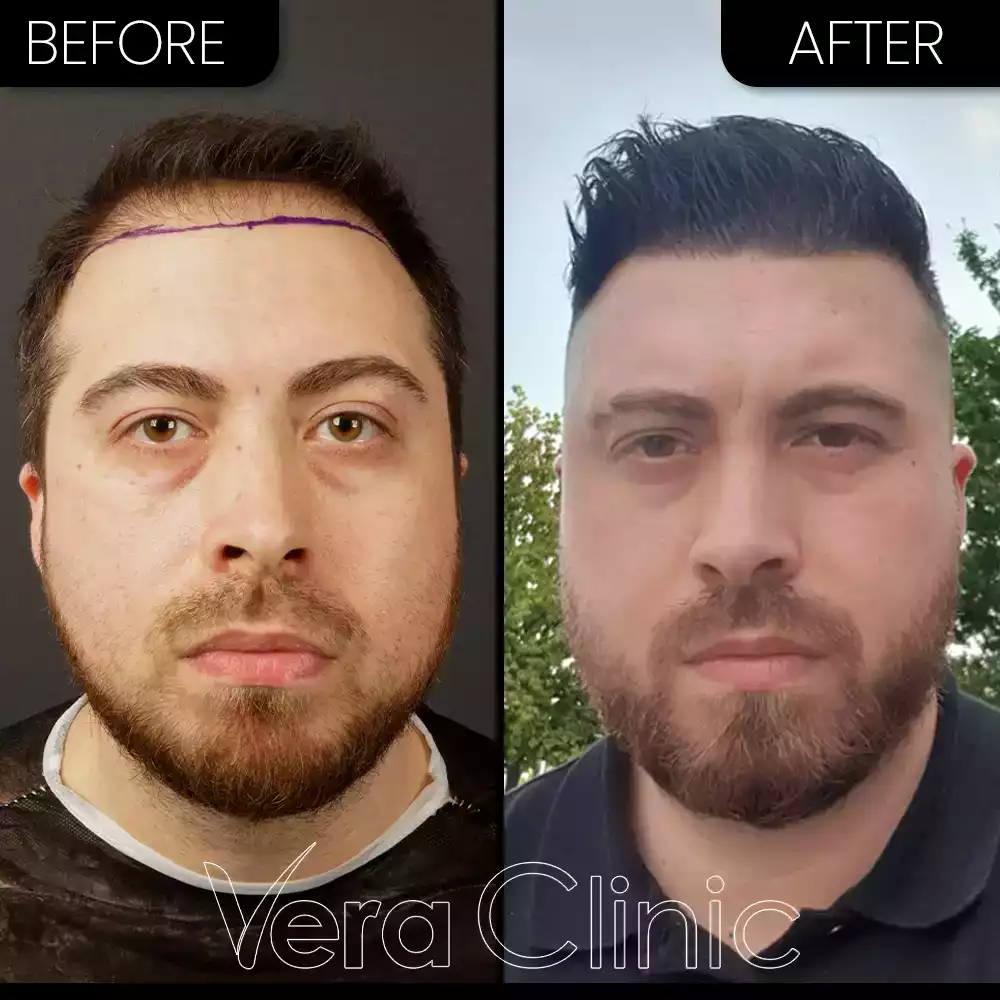 FUE Hair Transplant Turkey Before and After
With FUE hair transplant in Turkey, the results continue to improve over time. Within a week of the procedure, you will notice a new hairline and significant aesthetic improvement. However, optimal results are typically seen in the following weeks and months as your hair naturally continues to grow. The FUE hair transplant Turkey donor area after two weeks will show even further improvement. Our before and after photos demonstrate the quick results that can be achieved, with significant aesthetic changes seen in 6 to 12 months, including improvements to the hairline and overall hair growth.
Hair Transplant Before After Surgery: Recovery and Maintenance
Following a hair transplant surgery, it is crucial to adhere to the recovery and maintenance instructions provided by your surgeon. This will ensure the success of your hair transplant before and after results. During the recovery period, it is important to avoid strenuous physical activity, direct sunlight, and swimming. Additionally, refrain from touching or scratching the transplanted area to prevent damage to the newly transplanted hair follicles.
Once your hair transplant before and after results have fully developed, maintaining the new hair growth is essential. This includes using gentle shampoos, avoiding harsh chemicals and heat styling tools, and protecting your hair from direct sunlight.
Hair Transplant Before After Results: Real Patient Stories
Real patient stories offer valuable insight into the hair transplant before and after experience. Many patients have experienced a significant improvement in hair density and appearance after undergoing a hair transplant. Before choosing a DHI hair transplant surgeon, it is important to research and read hair transplant Turkey reviews and testimonials to find the right surgeon for your needs.
Hair Transplant Before After Results After 1 Year Hair Growth
After one year of hair growth following a transplant, you will notice a significant transformation. The full head of hair developed through the transplant will contrast with the previous hair loss. The hair follicles continue to grow and reach their full potential. It is normal to experience hair shedding around four weeks after the procedure, followed by stronger follicles and permanent hair growth. Our hair transplant results in Turkey are of the highest standard, providing long-term satisfaction with your new aesthetic.
Post Hair Transplant Turkey: Achieving Exceptional Results
The hair transplant before and after results can be exceptional if you are a suitable candidate for the procedure. At Vera Clinic, we assess your suitability by examining your current level of hair loss and the number of healthy hair follicles suitable for transplant. Book a consultation with our expert medical team to determine the best course of treatment for the results you desire. Our state-of-the-art facilities and experienced team in Istanbul, Turkey ensure exceptional hair transplant results. Read our patient reviews and view our before and after photos to gain a comprehensive understanding of the results you can expect from our hair transplant clinic.
Hair Transplant Before After Results FAQs
How much hair growth can I expect in a year?
During a hair transplant in Turkey, up to 7000 follicular units can be transplanted, resulting in all-over coverage and a natural hairline. After one year of hair growth, you can expect to see the full effects of the transplant.
Will I experience discomfort seven days after a hair transplant in Istanbul
Typically, there is minimal discomfort associated with FUE hair transplant before and after procedures. Patients may experience some swelling or irritation for a few days, but this can be managed with painkillers. By the end of the first week, the discomfort should subside.
Is a hair transplant permanent?
Yes, a hair transplant in Turkey provides long-term results if proper care is taken. With immediate results and continued growth over time, you can enjoy a natural-looking head of hair.
What is a hair transplant before after?
A hair transplant before after refers to the comparison of hair loss or baldness before undergoing a hair transplant procedure and the results achieved after the transplant.
What are the typical results of a hair transplant?
The typical results of a hair transplant vary depending on factors such as the extent of hair loss, the type of procedure performed, and individual characteristics. In most cases, the transplanted hair grows naturally, resulting in fuller and more natural-looking hair.
How long does it take to see the final results of a hair transplant?
The final results of a hair transplant may take several months to fully develop. Hair growth typically starts within 3-4 months, and the final results are generally visible after 9-12 months.
What are the before and after results of a 2000 grafts hair transplant?
The before and after results of a 2000 grafts hair transplant can vary for each individual. Significant results can be visible after 6-12 months, with continued improvement over 18-24 months. Visit our website to see examples of previous Vera Clinic patients who have undergone a 2000 graft hair transplant.
Contact us
By getting in touch with our professionals, you can receive information right away. Please contact us if you have any questions or need to book or cancel a treatment. You are free to ask any inquiry you like. Please fill out the form to get feedback as soon as possible.
Vera Clinic
Küçükbakkalköy Mahallesi, Atilla İlhan Cd. No29-31, 34750 Ataşehir/İstanbul