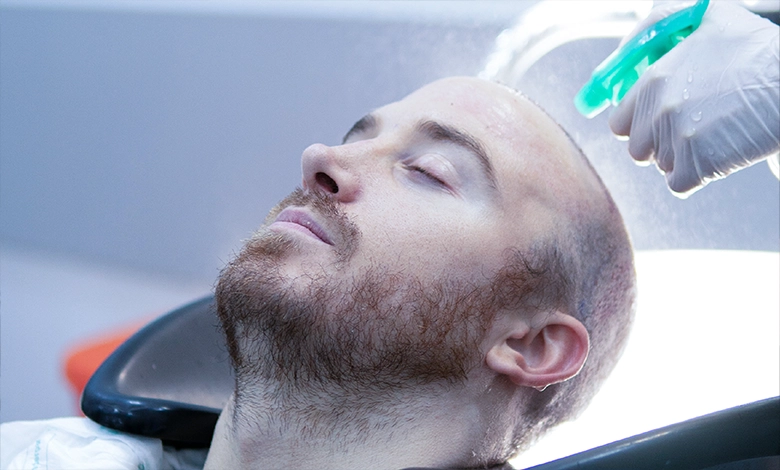 Hair transplant aftercare is highly important following your hair transplant in Turkey. Whether it is aftercare for a FUE hair transplant Turkey, an afro hair transplant Turkey, a beard transplant or any of our other hair transplant Turkey procedures, ensuring that you take the right steps to protect your hair and scalp following a procedure is essential.
Aftercare For a FUE Hair Transplant Turkey
Following your procedure, various hair transplant aftercare products are essential in order to protect yourself and keep your new hair in the best possible condition. Hair transplant before after products include hair strengthening products such as:
TABLET HAAREX: Vitamins and nutritional supplements. Taking these hair transplant aftercare products twice daily (morning and night) one week after surgery will assist with hair regrowth and recovery.
SPRAY HAAREX: A hair transplant Istanbul aftercare spray to be used after 25 days after surgery. Once you have washed your hair, spray 3 times in the morning and 3 times at night on the recipient, massaging lightly. Leave this hair transplant Istanbul aftercare product on the scalp for a minimum of 4 hours before washing off.
HAAREX SHAMPOO OR GF SHAMPOO: A medical hair transplant clinic aftercare shampoo. Start regularly using this once every 2 days, from 15 days after surgery.
GF SERUM: Start applying this nurturing serum 12 days after surgery. Place 2 ml of the serum on the recipient site with a slight massage after a shower. Use at night and once per day.
5% MINOXIDIL: Apply this 30 days after surgery, using it on the affected site twice daily.
PROSCAR 5mg: Use 1/4 pill every 24 hours after a meal from 20 days after surgery onwards for thorough aftercare of a hair transplant Turkey.
Please bear in mind when using any of these hair transplant clinic aftercare products that you must carefully follow all directions within the packaging of each. By adhering to all hair transplant before after instructions, you will get the most out of your procedure from our state-of-the-art clinic.
Aftercare: Hair Transplant Clinic Washing Instructions
When washing with hair transplant aftercare shampoo, there are various stages you must adhere to for thorough aftercare following a FUE hair transplant in clinic.
Apply the gel to your palm, rubbing it into the recipient area. Leave this for 20-30 minutes before rinsing the gel with lukewarm water.
Pour hair transplant Istanbul aftercare shampoo on your palm and then gently place on the donor site, repeat for the recipient site.
Gently massage the entire scalp in a circular motion with your fingertips, abstain from using fingernails. Rinse the entire scalp with lukewarm water of low pressure.
Repeat the indicated protocol once daily for the first 10 days after surgery. On the 11th day, you must rub the scalp lightly to remove scabs and flakes from the scalp.
This should occur one day after your procedure for the best aftercare results for a FUE hair transplant Turkey. It is worth noting that some bleeding may occur up to a few days following the procedure. Avoid disrupting the bleeding region, but you may clean the surrounding area. If the bleeding continues, please contact your doctor. In the first 3 days, a few grafts may occasionally be knocked or combed out. This is very uncommon, and it is rare to lose more than a few hair roots this way.
Hair Transplant Aftercare Medication
You may experience some pain in the days that follow your procedure at Vera Clinic, with the following symptoms evident over the specified periods of time:
Day 3: Swelling.
Day 10: Scabs will develop.
Day 15: The affected area will have healed.
Days 30 – 45: Shedding of transplanted hair.
3 Months: Growth of transplanted hair.
6 Months: 50%-60% growth of transplanted hair.
18 Months: Final result will be evident.
During this time, the following medication may be prescribed to you:
Arveles 25 mg (Painkiller): One tablet twice a day must be taken straight after a meal, one in the morning and one in the evening when needed.
Amoklavin-Bid 1000mg (Antibiotic): One tablet twice a day must be taken straight after a meal, one in the morning and one in the evening for 5 days.
Prednol 16mg (Swelling reducer): Two tablets at once must be taken straight after a meal, on the first and second day. Take one tablet straight after a meal on the third and fourth day.
For advice and a quote, dependent on your specific needs regarding hair transplant aftercare, contact us today and one our experts will get back to you as quickly as possible.
Hair Transplant Recovery Timeline: What to Expect
After the hair transplant Istanbul surgery, you'll be given instructions on how to care for your hair and scalp to promote healing. The recovery timeline can vary depending on the individual's healing process, but most people can expect to return to work within a week or two.
During the first few days of the hair transplant recovery timeline, it's essential to avoid strenuous activity, including exercise, and to sleep with your head elevated to reduce swelling. You may also experience some pain or discomfort, which can be managed with over-the-counter pain medication.
Post-Hair Transplant Care: The Ultimate Aftercare Guide
Post-hair transplant care is crucial to ensure the best possible results. Your surgeon will provide you with detailed instructions on how to care for your hair and scalp during the healing process. This may include using a special shampoo, avoiding direct sunlight, and refraining from wearing hats or other headwear.
It's also essential to avoid scratching or rubbing the scalp and to avoid any activities that may cause excessive sweating, such as saunas or steam rooms. Your surgeon may also recommend using a laser comb or other hair growth treatments to promote hair growth and ensure the best possible results.
Hair Transplant Progress: What to Expect in the First Few Weeks
The first few weeks following a hair transplant can be a challenging time for patients, as they may not see any visible changes in their hairline. However, it's essential to be patient and trust the process. In the first few weeks, you may experience some shedding of the transplanted hair, which is normal and expected.
Over the next few months, you'll gradually begin to see new hair growth in the recipient area. It's essential to track your hair transplant progress and take photos regularly to monitor your results.
Hair Transplant Timeline Photos: Tracking Your Progress
Taking photos at regular intervals is an essential part of tracking your hair transplant progress. Your surgeon may provide you with a timeline of when to take photos, such as every week or every month, to monitor your progress.
It's also a good idea to keep a journal of your recovery process, including any changes or improvements you notice in your hairline and scalp.
Hair Transplant Healing Time: How Long Does it Take to Recover?
The hair transplant healing time can vary depending on the individual's healing process and the size of the procedure. Most people can expect to see visible results within six to twelve months, although it may take up to eighteen months for the full results to be visible.
It's essential to be patient during the hair transplant healing process and to continue following your surgeon's aftercare instructions to ensure the best possible results.
FUE Hair Transplant Recovery Timeline: What to Expect
Follicular Unit Extraction (FUE) is a popular hair transplant method that involves extracting individual hair follicles from the donor area and transplanting them to the recipient area. The recovery timeline for FUE is similar to other hair transplant methods, with most people returning to work within a week or two.
However, FUE hair transplant recovery timeline typically results in less scarring and a quicker healing time than other hair transplant methods, making it an attractive option for many patients.
Hair Transplant Aftercare Tips: Dos and Don'ts
Following your surgeon's hair transplant aftercare tips is crucial to ensure the hair transplant clinic best possible results. Here are some dos and don'ts to keep in mind:
Do:
Follow your surgeon's aftercare instructions
Use a special shampoo recommended by your surgeon
Keep your scalp clean and dry
Wear a hat or headwear to protect your scalp from the sun and wind
Don't:
Scratch or rub your scalp
Participate in strenuous activity or exercise
Wear a hat or other headwear that may cause sweating
Smoke or use any nicotine products