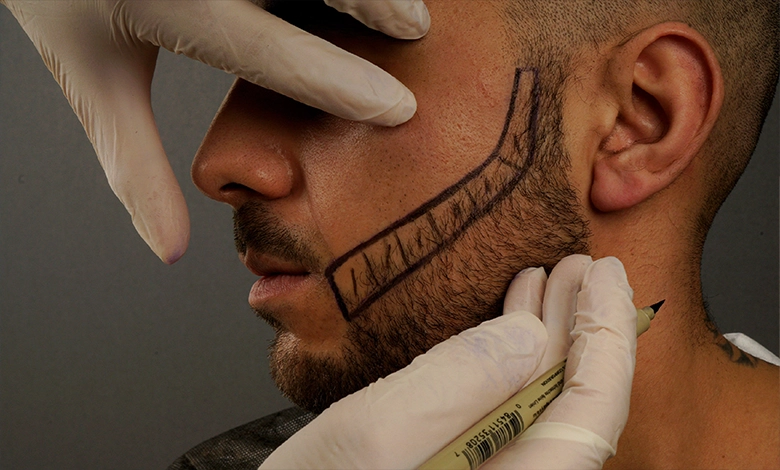 Beard Transplant in Turkey is gaining popularity among men who want to enhance their appearance. Vera Clinic, a leading hair transplant clinic in Istanbul, offers top-quality Beard Transplant in Turkey services to men from all over the world.
With a team of skilled doctors and state-of-the-art equipment, Vera Clinic ensures that every patient gets the best possible results. Whether you want to fill in patchy areas or achieve a full beard, Beard Transplant Turkey at Vera Clinic is the solution you have been looking for.
Are you ready to take your facial hair game to the next level? A beard transplant in Turkey is just the thing to give you that full and luscious facial hair you've been dreaming of. This procedure uses ultra-precise methods so that every strand can be expertly placed for maximum volume. Healthy donor hair is collected delicately and skillfully sculpted into a style that best suits your desired look. Whether it's more coverage or precise shaping, a beard transplant in Turkey mixes ingenuity with expertise for a bang-up grooming effect!
A trichologist will work with you throughout the process and suavely give you professional insight into which hair would look the best. Once ready, you can confidently take strides in your appearance, inspired by Turkey's elite standard for precision, quality, and effectiveness. There's no better way to let your beard flourish than with a trichologist's preciseness and know-how. Your bold new statement awaits you – trust the experts in beard transplants here in Turkey!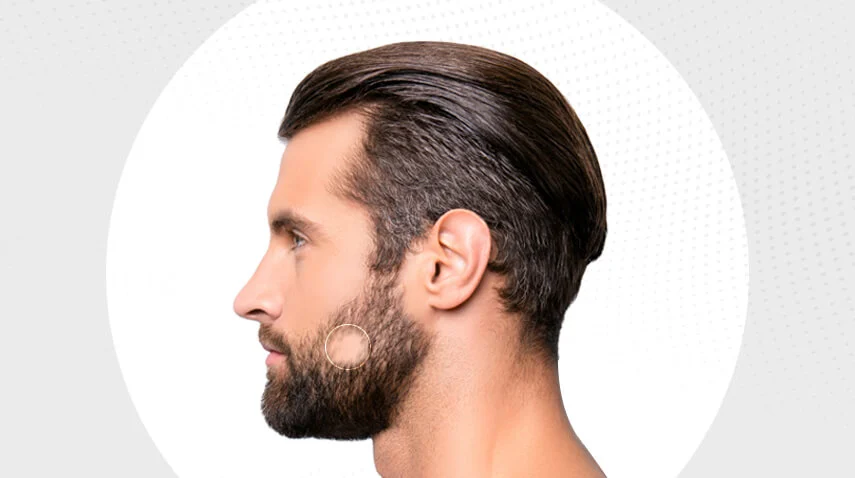 What Is a Beard Transplant?
Are you struggling to fill out your beard? Have facial hair that grows patchy or doesn't grow at all? Facial hair loss strikes many men out there – and in some cases, genetics may be the root of the problem. While you may feel helpless on such matters, we have good news for you!
A beard transplant in Turkey is an ingenious solution to restore volume, density, and symmetry to your face. This specialty procedure is completed with surgical precision depending on the specialist performing it – so only go with recognized Beard Transplant Turkey centers that will deliver perfect results!
Imagine saying goodbye to patchy areas for the total growth of a goatee, mustache, and sideburns – whatever style you prefer for personal grooming. Perhaps this lack of growth had become an obstacle in self-confidence; regain what's rightfully yours! Thanks to the beard transplants of top Turkish specialists, you are assured revitalized growth and fuller volumes where previously these didn't exist. Rejoice, no matter whether genetics or unlucky scarring has caused the follicular issues; stunning progressions await.
A beard transplant Istanbul is just as it sounds: hair is taken from one part of the body and transplanted to your jawline or any area where your beard is reluctant to grow. A beard transplant Istanbul similarly works if you're familiar with FUE hair transplants, where individual hair follicles are extracted from donor regions and implanted into other areas of the scalp.
The hair is found on the scalp and then transplanted into the beard area. Individual hair follicles are removed with a specialist extraction tool which leaves minimal scarring. They are then prepared to be implanted into your face.
Grasping the Concept of Beard Transplantation
Before exploring the details of beard transplantation in Turkey, it's crucial to comprehend the process itself. Beard transplantation is a surgical method that entails extracting hair follicles from the rear or sides of your head, referred to as the donor region, and implanting them into your beard area. We do not only use double and triple grafts, we also plant single hair follicles on the border of the beard so that it looks natural. Operation is carried out under local anesthesia, so you'll be conscious but won't experience any discomfort. The relocated hair will then start to grow in your beard region, resulting in a denser, more robust, and natural-looking beard.
Beard Transplant Advantages
There are many advantages to coming to Turkey for your procedure other than the beard transplant cost. Several studies show that men with facial hair are likely to be considered attractive and that having facial hair entails security, strength, and confidence. Therefore, a beard transplant Turkey can enhance your self-esteem and self-confidence. Beard transplant Istanbul surgery and the healing process take very little time compared to most other surgeries. It would be best if you were in and out of the surgeon's office within a few days.
No scarring, giving you a natural-looking beard with permanent results.
No evidence that your beard is an FUE transplant.
It allows for any style of beard you want.
Minimal downtime.
We've got the solution for you – ditch the scars and embrace a natural-looking style with an FUE transplant. No more limitations on your facial hair game; try any style you've been craving! With low downtime, you can be back to brushing through your amazing results in no time. Don't know where to start? Try FUE fusion and discover your perfect look.
Why Choose Vera Clinic for a Beard Transplant in Turkey?
Welcome to our medical haven! Our facilities are top-notch and filled with state-of-the-art equipment. Our highly qualified medical team is experienced and ready to provide the best care possible, from your initial consultation to your expert aftercare. We provide accommodation and travel arrangements with a focus on making your stay as comfortable as possible. Our standards of service are of the highest quality, ensuring that you'll receive permanent and natural-looking results. As a trusted destination for medical tourists, we pride ourselves on providing affordable procedure costs without sacrificing quality. Join us and experience the best care possible!
Vera Clinic carries out the best beard transplant result in Turkey as we are highly passionate about our patients' satisfaction after their surgeries. We ensure the results are long-lasting and that following your procedure, you can leave our practice happy and confident about choosing us for your beard transplant in Turkey.
Our board-certified and experienced plastic surgeons are available to discuss your needs, concerns, and thoughts on your desired procedure. If you want to learn more about beard transplant costs in Turkey, check out our beard transplant clinic and see it is the place for you. At Vera Clinic, we have the following:
✓ State-of-the-art facilities
✓ Qualified and experienced medical team
✓ Accommodation and onward travel included
✓ Expert aftercare and patient care
✓ High-quality standards of service
✓ Permanent, natural-looking results
✓ Trusted destination for medical tourists
✓ Affordable procedure costs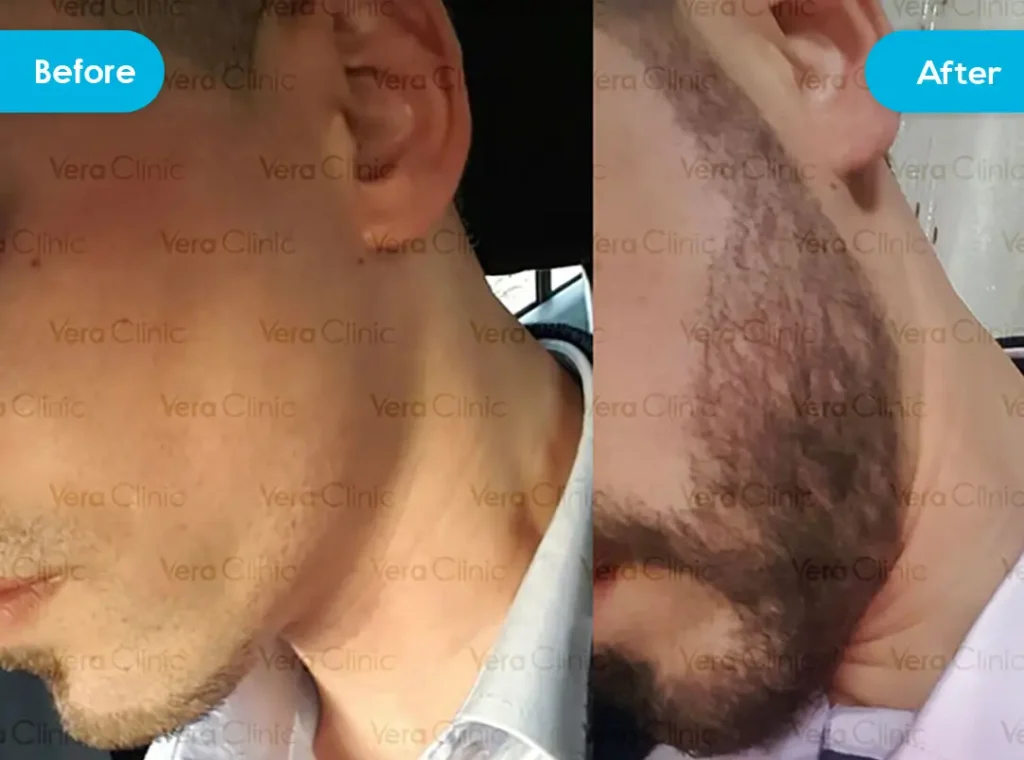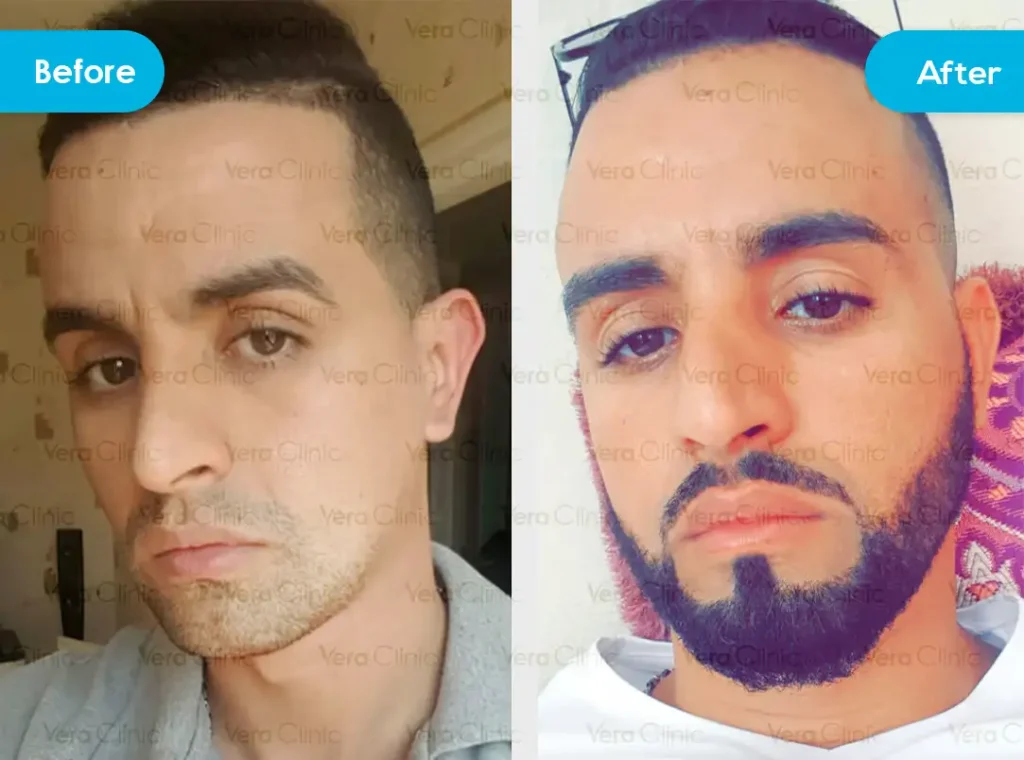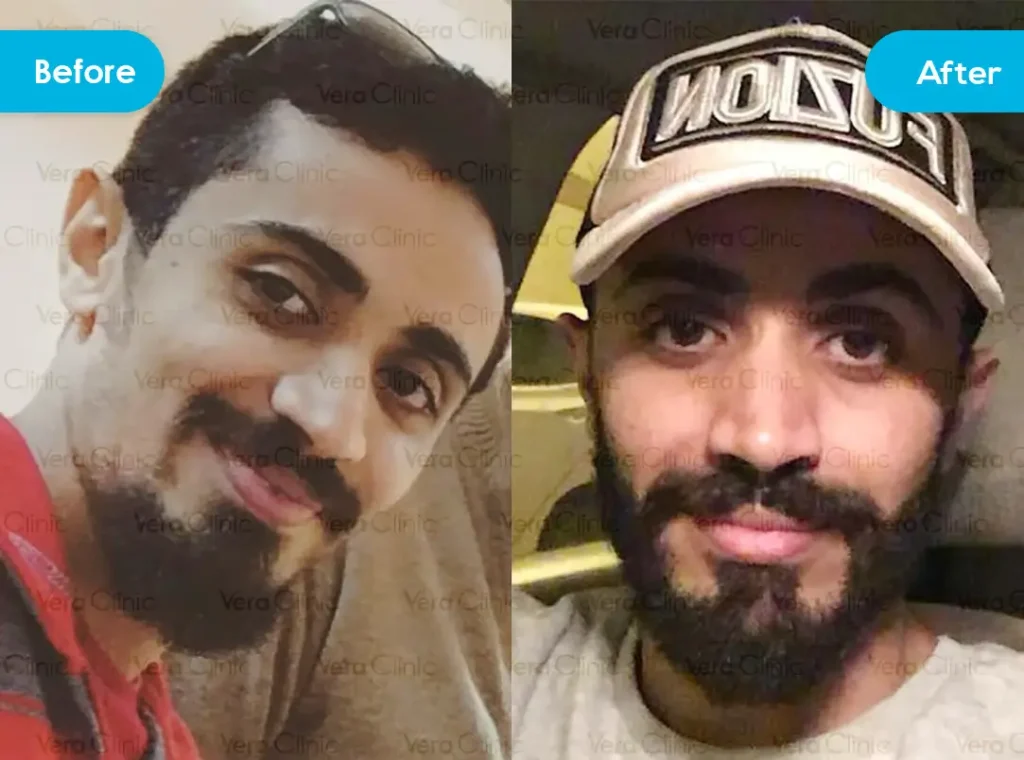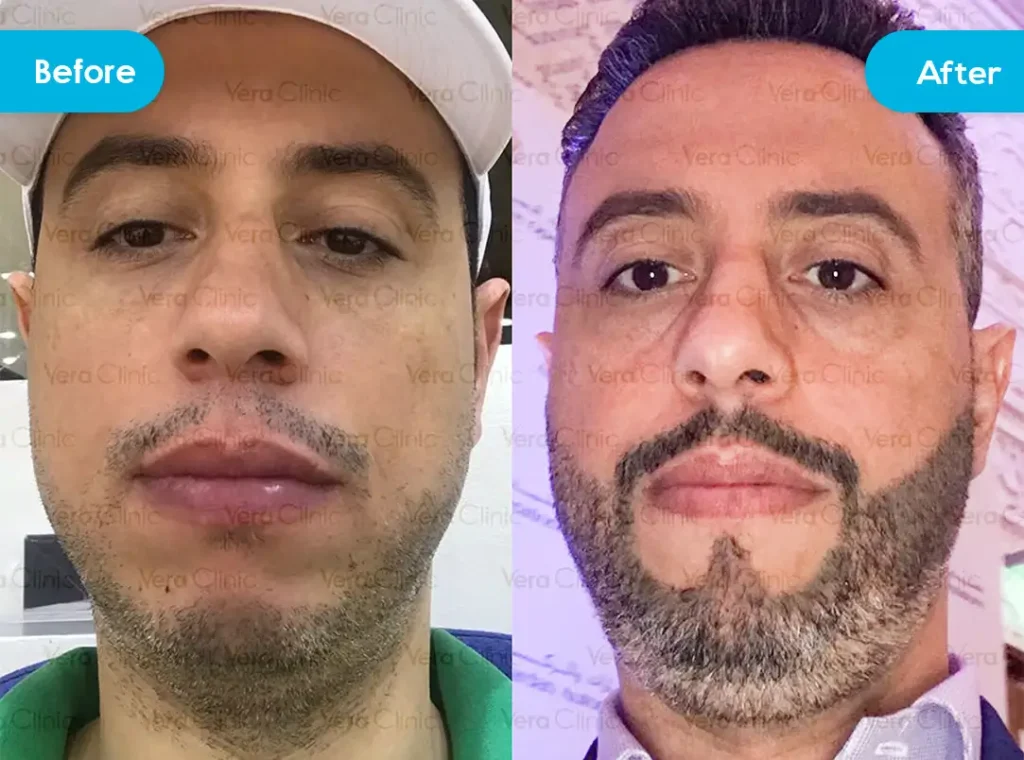 The Emergence of Beard Transplants in Turkey
In recent times, Turkey has emerged as a top destination for beard transplants, with thousands of men visiting the country annually to undergo the treatment. Several factors contribute to Turkey's increasing popularity for beard transplant result successes, one of which is the nation's reasonable pricing.
Am I Eligible for a Beard Transplant?
1 – Cause of Hair Loss
For patients looking to even out patchy facial hair or struggle to grow facial hair due to hereditary reasons or past skin trauma, a beard transplant uses existing hair to create a natural-looking beard or mustache.
2 – Donor Hair Density
Finer hair is usually needed for a beard transplant. During the procedure, your surgeon will locate your 'stable zone area' at the side or back of the head, which is then used as the donor area for your facial hair
The Process of a Beard Hair Transplant
All surgeons at Vera Clinic are intensely practiced in the field, paying great attention to detail and undertaking intricate processes skillfully. During the procedure, you can expect the following:
Hair follicles are extracted from a donor area and implanted into the target site (upper lip/chin/sideburns/jaw area).
We tailor each of our beard hair transplants to the individual patient, selecting the appropriate extraction punches and creating incisions depending on the patient's hair follicles.
FUE beard transplants take approximately 6-8 hours to complete depending on how many grafts are required, and are carried out under local anesthesia.
Beard transplants are usually completed in just one session. However, this ultimately depends on your requirements. Each session can take up to 6-8 hours with a local anesthetic.
1 – Before the Treatment
Enjoy a free hair analysis to ensure a beard hair transplant suits your needs.
Free Virtual Consultation
A free, bespoke consultation to ensure you have the best results from one of our expert consultants.
Our team will look after you from day 1 and are available 24/7
2 – During the Treatment
We can help to arrange VIP transport to and from the airport, as well as to our beard transplant clinic for your treatment.
We will assist with arranging accommodation for your stay. Hence, you feel safe and comfortable for the duration of your trip.
We offer translation services to assist you during your trip. We speak your language!
As part of your journey, we will provide you with all the medication and care you require.
3 – After the Treatment
We offer regular checkups with our expert team to ensure your cosmetic procedure is healing correctly after checking your hair transplant result.
Guarantee Program
We believe in value and quality over quantity, so we offer a guarantee on our treatments.
We will provide consistent advice post-procedure on additional treatments which may assist with your long-term results.
Following Your Beard Transplant in Turkey
Immediately After
You can get back to your day-to-day life with relative normality in the first two days. We provide each patient with an aftercare kit to help them achieve the best beard transplant in Turkey. This contains information and advice to provide optimal results and eliminate scarring, as well as shampoos, creams, antibacterial serums, and painkillers to shorten healing time. You will be amazed by the beard transplant before after photos.
Initial After Care
The grafts implemented to your face should scab over, but these scabs usually fall off within a few days. Talking and laughing should ideally be kept to a minimum within the first 2 days. 10 days following your procedure, you should not shave, which allows the area to recover. Our patients can only use a shaver or scissors to shorten the existing beards after the crust has fallen off. You may notice redness or crusting here, but this will subside within a week.
3 – 4 Weeks After
After 3 or 4 weeks, the transplanted hair will fall out of the face, and a new beard will begin to grow. Within 6 months, you could be sporting a long, thick beard. Shedding hair is natural, and the hair will begin to regrow in at least one week. Optimal growth will appear in 4 to 6 months following your hair transplant in Turkey. Final results will be seen in 12-15 months
Beard Transplant FAQs
Is a beard transplant permanent?
Beard hair transplants are growing in popularity due to their long-lasting effects. Still, we are often asked, 'is a beard transplant permanent?'. Once the transplanted hair has started to regrow, it will act the same way as your normal hair and create a permanent solution.
How much is the beard transplant cost in Turkey?
The beard transplant cost in Turkey varies from practice to practice. Thorough research should be undertaken into the company offering beard transplants, checking to ensure the hospital and surgeons are fully accredited. Unusually cheap offerings are often not the sign of the best beard transplant in Turkey and can compromise safety and results.
How long does a beard transplant take to heal?
Generally, a beard hair transplant heals quickly, with scabbing and redness subsiding within a week. Our patients often ask us, 'how long does a beard transplant take to heal?' with the expectation of downtime from work and day-to-day activities. Still, everyday life can resume within just a couple of days.
Do you have examples of a beard transplant before after?
Knowing the type of beard transplant before after you can expect to see for yourself will help you decide if an FUE transplant is the right choice for you. Looking at some before and after examples that the team at our beard transplant clinic Turkey has achieved will give a more precise idea alongside a consultation to discuss your own needs, setting realistic expectations of how a beard hair transplant can work for you.
Do beard transplants look natural?
Vera Clinic provides the best beard transplant in Turkey in terms of natural-looking results. The incisions made using sapphire blades are tiny and don't hurt or leave noticeable scars. This surgery also involves minimal downtime and limited side effects.
Are there any risks with beard transplants?
Risks may include some degree of redness, swelling, and scabbing in the treated area. However, this should go within a few days. Our medical team will be able to guide you through any risks and side effects and what to expect before, during, and after your procedure. Moreover, you will be happy when you check beard transplant before after photos.
How do I prepare for a beard transplant?
To get ready for the procedure, provide your medical team, including nurses, doctors, and the surgeon, with your medical background, encompassing any medicines and supplements you're currently using or have used in the past. Talk about your anticipated outcome and preferred beard style with the surgeon, making sure you both share a common understanding of the final appearance you desire. It's also essential to stop smoking and consuming alcohol at least one week before the surgery and cease taking any medications that thin the blood, as these can interfere with the healing process.
Additionally, you should take a shower either the day before or the morning of the surgery. Ensure your face and beard area are clean and free from any beard styling products.
Why should you choose a beard transplant in Turkey?
Discover the ultimate solution to hair loss with Beard Transplant Clinic Istanbul, Vera Clinic, a world-renowned center for excellence in hair restoration procedures. As the capital city of hair transplants, Istanbul has become the go-to destination for those seeking exceptional results, unmatched expertise, and competitive pricing. Opting for a beard transplant in Turkey not only offers a transformative experience but also provides financial advantages that make it an attractive choice for medical tourists worldwide.
At Vera Clinic, we pride ourselves on delivering state-of-the-art beard transplants, a revolutionary technique that has gained immense popularity in Turkey and beyond. Our highly skilled and experienced doctors are committed to providing the highest standard of care, ensuring the best possible outcome for each patient. With our advanced technology and exceptional expertise, you can expect a seamless and efficient hair transplant process that produces natural-looking results.
Opting for a beard transplant in Istanbul is not only a savvy monetary choice, but also a clever investment in your self-assurance and self-worth. With the rising number of individuals pursuing beard transplants in Istanbul surpassing those in Europe, the UK, and the US, it's evident that Turkey is the top location for this transformative surgery.
Our exceptional facilities, unmatched proficiency, and dedication to patient contentment establish us as the foremost option for beard rejuvenation.
How much does a beard transplant cost in Turkey?
The cost of a beard transplant in Turkey varies depending on several factors, such as the extent of the hair loss, the number of grafts needed and the surgeon's experience. However, the cost of a beard transplant in Turkey is generally more affordable compared to other countries, with prices ranging from 3,000 to 3,500 EUR.
Can I have more than one type of treatment at once?
At our beard transplant clinic Istanbul, Vera Clinic, we understand that every individual is distinct, which is why we offer an array of treatment options, ranging from basic grafting to more complex surgeries encompassing multiple procedures. We are here to help you tackle issues like male or female pattern hair loss, a sparse beard, or simply enhancing your looks with a Hollywood Smile. You will desire more when you receive your beard hair transplant before after successful results. Our proficient team of doctors will work closely with you to develop a customized treatment plan that caters to your particular needs and goals. With our state-of-the-art facilities and top-notch equipment, you can rest assured that you're in competent hands.