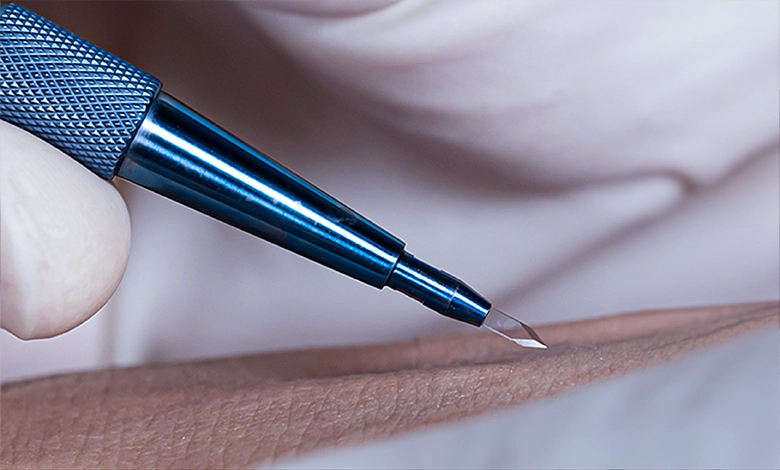 Adding a twist to the standard procedure, a FUE Sapphire method hair transplant in Turkey uses blades of sapphire rather than regular steel blades for a higher level of accuracy. Many opt for a Sapphire Follicular Unit Extraction (FUE) Turkey over a traditional hair transplant method in Turkey, as the valuable gemstone used to create the tools offers extra precision. The increased accuracy leads to a significant effect on the results.
To speak with our medical team, book a consultation, and we can fully assess your hair loss issue to recommend the best treatment for you. With our world-class facilities, leading surgeons, and lower costs, you can choose cosmetic surgery, dental aesthetic treatment and hair transplants in Turkey to provide a happier, more confident you.
The Process of a Sapphire Hair Transplant in Istanbul
If you're suffering from hair loss, a Sapphire FUE hair transplant in Istanbul is a popular option to help you regain the natural look of your hair. This procedure is the well-known FUE Sapphire hair transplant technique, but it's taken to the next level using sapphire blades.
Like the FUE technique, Sapphire FUE hair transplant Turkey refers to extracting hair follicles from the donor area using an FUE method and implanting them into micro incisions created by surgeons using the sapphire blades. Where FUE hair transplant uses steel blades, in diamond hair transplant turkey, recipient areas are targeted with sapphire blades made from synthetic sapphire. These blades contain a single crystal of sapphire, which is considerably sharper and more durable than steel.
Sapphire FUE Turkey treatment uses blades made of Sapphire stone to create incisions on the scalp for implantation.
Sapphire stone has been chosen as it influences the shape of the blade, impacting the overall result.
The V-shaped pin offers more intricacy than the regular U-shaped pin of steel blades.
A FUE Sapphire method is a minimally invasive procedure, creating permanent results without long recovery times.
The Advantages of Sapphire FUE in Turkey
A diamond hair transplant Turkey offers additional benefits compared to other hair transplant techniques, adding an extra level of precision for optimum results. What is sapphire FUE hair transplant and its benefits:
Virtually invisible scars for a natural looking finish.
Minimal pain after your procedure.
Less downtime, allowing you to get back to normality.
Ensures a natural-looking hairline in your desired shape.
Less risk of complications in comparison to other treatments.
Many patients currently favour the Sapphire FUE hair transplant Turkey method because it provides a more natural-looking result. With Sapphire FUE hair transplant in Istanbul, you have minimal scarring, much less pain after surgery and a more precise approach, and the desired results you are looking for can be achieved, even if you have poor hair density, such as having thin hair.
Also known as frozen FUE sapphire technique hair transplant, the cost in Turkey can be considerably less than in other countries. Our facilities in Istanbul, Turkey, use the latest state-of-the-art equipment within a comfortable environment. What is sapphire FUE hair transplant cost? Does it include accommodation, flights, and transportation, making the package extremely cost-effective compared to having a hair transplant in your own country?
Why Choose Vera Clinic for a Sapphire Hair Transplant?
Expert medical team of qualified surgeons and doctors
State of the art medical facilities
Central Istanbul, Turkey, location
High quality standards in patient care and service
Procedure costs are low and affordable
Reputable choice for medical tourists
Accommodation included along with onward travel
Procedure Time – 8 to 10 hours
Anaesthetic – Local anaesthetic
Recovery Time – Minimal downtime
Accommodation & Transfer – Included
The Process of a Sapphire Hair Transplant in Istanbul
The process is like an Sapphire FUE Turkey hair transplant, differing in the type of instruments used:
The blade's sharp edges result in smaller channels, eliminating the risk of irritating neighbour hair follicles and causing unnecessary scarring.
The reduced risk of irritating neighbour follicles means a Sapphire FUE hair transplant will maintain the hair density, providing the best results for both men and women suffering from hair loss.
The duration of a Sapphire FUE hair transplant in Turkey tends to be around 8 to 10 hours, depending on the number of hair grafts required; your surgeon will establish this before the treatment.
The complete Sapphire FUE hair transplant technique is very intricate and requires a high level of detail, but following the transplant, downtime is minimal. This allows you to spend less time recovering and more time enjoying the beautiful surroundings of Istanbul during your stay.
Eligibility for a Sapphire Hair Transplant In Turkey
A Sapphire hair transplant in Turkey is unsuitable for everyone with certain eligibility factors. During your consultation for an FUE Sapphire hair transplant, a discussion will be had to establish a final decision by our surgeons and technicians. Generally, the following three factors decide on a candidate's suitability:
Cause of Baldness
Hair loss conditions including androgenic alopecia, traction alopecia and alopecia marginalis make ideal candidates for a Sapphire hair transplant in Istanbul. Those who have suffered from hair loss in localised areas stemming from trauma, including scarring and burns, tend to make suitable candidates.
Donor Hair Density
With the hair being extracted from donor sites, it is necessary to have sections of dense hair on the scalp. The process of a Sapphire FUE hair transplant technique removes hair from the donor site to the problem areas, so good hair in this area is required.
Beginnings of hair thinning
A Sapphire FUE hair transplant is ideal for men and women who are just starting to lose hair whilst hair density is believed to be still high. This hair transplant method is carried out without disturbing any hair follicles in the vicinity as opposed to a standard FUE procedure.
Aftercare & Recovery Time of a Sapphire Hair Transplant in Turkey
What is sapphire FUE hair transplant and its downtime? It is of course minimal. It is normal to experience slight swelling or soreness in the areas involved in the treatment, but this is nothing to worry about and should fade over a few days.
We provide each of our patients with a carefully designed aftercare kit that contains plenty of information on how to take care of your transplanted hairs to receive the best results from your Sapphire hair transplant in Istanbul.
Your kit will include all the products you will need, including shampoos, creams, antibacterial serums, and painkillers designed exclusively to be gentle on the scalp and shorten healing time.
You should expect to see your transplanted hair shred around 3 to 4 weeks following your Sapphire FUE hair transplant. This stage is normal and does not affect your final Sapphire FUE hair transplant results, growing back within a couple of months.
Seeing optimal results of your Sapphire FUE in Turkey can take up to a year, but generally, you will notice significant changes within 4-6 months of the procedure.
Hair transplant aftercare is critical following your hair transplant in Turkey. Whether it is the aftercare for a Sapphire FUE hair transplant, an afro hair transplant, a beard transplant, or any other hair transplant procedure, ensuring that you take the proper steps to protect your hair and scalp following a process is essential.
FUE Sapphire Frequently Asked Questions
What is sapphire FUE hair transplant and how long does Sapphire FUE recovery take?
Following your Sapphire hair transplant in Turkey, the impact of your Sapphire FUE recovery will have minimal effect on your daily life. Soreness and swelling are expected following the procedure, but this will subside after a few days and is not a cause for concern. The donor site may form small scabs but generally will heal within a week and tend to be unnoticeable.
Sapphire FUE vs DHI – which technique is best for me?
Although both procedures follow a similar process, knowing the differences between Sapphire FUE vs DHI can help make the best decision for optimum results. An FUE Sapphire transplant requires the surgeon to manually implant the grafts, whereas DHI uses a specific tool to form the canals, perfect for smaller grafts. Expert advice will be given based on the individual patient to recommend the best approach during your consultation.
What Is the Difference Between FUE & Sapphire Hair Transplants in Turkey?
The main difference between a regular hair transplant using the FUE technique and a Sapphire hair transplant in Turkey is opening micro-channels in the scalp. As a result of the smaller microchannels within the recipient area, scab formations are minimal, and the recovery process is often sped up.
What is an ice sapphire hair transplant?
The ice cell method allows the hair follicles taken during the procedures to be placed in the sowing area without losing their function and dying. The procedure gives the best results when this vital development is applied with the newly developed Sapphire Blades. It's also described as a frozen Sapphire FUE cool hair transplant.
What is a Sapphire Blade?
Contrary to common belief, sapphire blades are not naturally produced from blue sapphire stones. Sapphire blades are made from a single crystal that is synthetic sapphire. This material is hundreds of times harder than standard steel to keep its sharpness for a long time. Sapphire crystals are turned into perfect blades by controlling every production stage in special machines.
How to sleep after frozen sapphire FUE cool hair transplant in Istanbul?
Preventing any damage following your frozen sapphire FUE cool hair transplant will help avoid hair transplant scars. After an FUE Sapphire hair transplant, learning how to sleep will allow the new follicles to heal correctly to create the best results. Sleeping in an upright position is ideal, placing a cushion behind the neck to keep any pressure off the FUE Sapphire donor area.
What does frozen FUE sapphire hair transplant in Turkey cost?
If you're concerned about what frozen FUE sapphire hair transplant in Turkey costs, contact our team today to arrange a personal consultation and quote. Our team can help you with any further questions or concerns you may have and offer an accurate quotation for how much a frozen FUE sapphire hair transplant in Turkey will cost you. Don't hesitate to get in touch as a member of our expert team will be happy to assist you.
Why is the sapphire hair transplant in Istanbul so cheap?
Many are interested in why sapphire hair transplant in Istanbul is more affordable. Firstly, one of the most significant influential factors on lower medical prices in Turkey is the country supporting the domestic manufacturing of any goods and products over importing. Consequently, any costs usually associated with shipping, logistics, and customs are eliminated from the final quote given by many clinics.
Secondly, the average salaries of a country underpin what is considered "low cost". Not only income, but the cost of living is much higher in other world areas like the UK and USA. Therefore, the low prices in Turkey have everything to do with the economy rather than the quality of procedures.
What should I look out for when booking sapphire FUE in Turkey?
We appreciate that finding a trusted sapphire FUE in Turkey; undertaking thorough research into the healthcare provider to ensure they maintain safety, hygiene, and industry standards will ensure you are in safe hands. At Vera Clinic, we take quality standards very seriously to provide the best Sapphire FUE in Turkey. Our hospital passes the International Certification Audit and holds an ISO 10002 Customer Satisfaction Management System certificate.
Researching clinics is an essential part of receiving hair loss treatment in Turkey. After all, you are putting your health and well-being in the trusted hands of surgeons. Therefore, you need to feel confident and comfortable around the professionals.