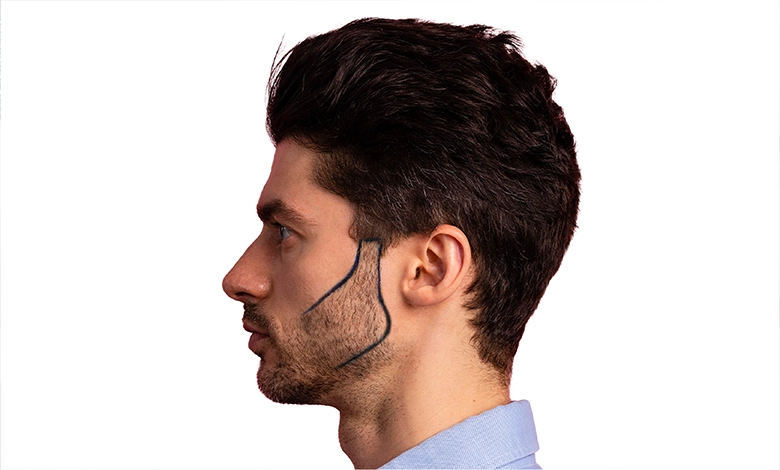 Step aside, monotonous hairstyles! The newest trend in town is all about sideburns. And for the ultimate statement, a sideburn transplant might just be your next big move (but leave it to the pros, folks). And where better to go than Turkey, with its rich historical heritage and expert surgeons? Get ready to rock those killer sideburns with confidence – no razor required!
Who knew that Turkey was the hottest spot for sideburn transplants? Yes, folks, you heard it here first. Trust us, and we did our research. Not only can you find qualified surgeons who can transform your sideburn game, but it won't break the bank either. Start booking that flight to Turkey, and your new sideburns are waiting for you!
If you're feeling a little bare in the sideburn department, you might want to take a trip to Turkey! Apparently, sideburn transplants are all the rage there, with more and more people getting in on the action every year. And why not? The process is surprisingly simple – just a quick jab of local anesthetic, and you're good to go.
The real kicker, though? Istanbul is the place to be for these bushy beauties. With low living costs and a plethora of hair professionals, there's no better place to get your sideburns back in business. And trust us, and these doctors know what they're doing when it comes to hair restoration.
Sure, the procedure can take up to three hours (or even longer if it's going to be a tricky one), but the results? Oh, they're worth it. Basically, they take hair from the back or sides of your scalp and transplant it onto your cheeks. Voila! Instant sideburns.
So if you wanna channel your inner Elvis, take our advice and head to Istanbul. Your sideburns will thank you.
If you're considering having a sideburn transplant in Turkey, there are a few things to keep in mind before undergoing the procedure. Firstly, make sure you're dealing with experienced doctors who have a portfolio of satisfied patients – this will ensure that you get the best possible results for your investment.
Sideburn transplants in Turkey are a great way to get the look you've always wanted. Although it may seem like an expensive procedure, the cost is actually quite reasonable when compared to other countries. With experienced doctors and low costs, Istanbul is definitely the place to go if you want to upgrade your sideburns!
So if you're looking for a new way to spruce your look, why not consider a sideburn transplant in Turkey? With experienced doctors and unbeatable prices, Istanbul is the place to go! You'll be amazed at the results – so what are you waiting for?!
Get yourself booked in today and be ready to rock those sideburns!
What Is a Sideburn Hair Transplant in Turkey?
This surgical procedure is designed to help you achieve the desired youthful and attractive look of robust sideburns. Our special approach restores hair on the sides of your face with transplant opportunities limited only by imagination.
Grafts are taken as much as you need without damaging your donor area – our specialist team carefully harvests those hairs and implants them at the precise angle and direction necessary to blend naturally with the facial hair present.
We believe everyone deserves to have beautiful sideburns, regardless of gender or any pre-existing hair loss conditions suffered from. So, reach out today and find out if our sideburn transplant procedure could benefit you!
Hair transplants have come a long way with their innovative technology. Now you can save money on treatments for fuller head, beards, and sideburns to get the style you want with natural-looking results. Constantly innovating in the medical industry, hair transplants enable even more robust and stylish looks at an affordable price. Whether getting sideburns or going full lumberjack look, the low costs allow you to keep track of the budget when maintaining your desired style like a pro while still investing in the ultimate head shave.
Having sideburn transplants at Vera Clinic, the best hair transplant clinic Turkey ensures the best quality hair transplants money can buy. As with all our hair transplants, we offer the best prices worldwide. Our sideburn hair transplant costs are lower than in any other country.
Sideburn Hair Transplant Advantages
At Vera Clinic, the best hair clinic Turkey, we take a versatile approach to carrying out sideburn hair transplants. We recognize that everyone, regardless of gender identity and expression, deserves the fullness of aesthetic possibilities regarding facial hair. We're proud to offer this service to anyone interested – achieving delightful sideburns rivaling their age superhero is easier than many think! We view our work with pride and seek to ensure that both sides feel comfortable and excited about the prospects of enhancing appearance through hair replacement solutions. From classic chinstraps to more daring designs shaped at precise angles, everything is attainable with a sideburn hair transplant from us.
We understand that there can be a multitude of reasons for wanting to get a sideburn hair transplant. Whether it's down to personal preference or medical necessity, we know the right choice can make a big difference. We strive to offer a service that helps mask insecurities and boost confidence because when you look the way you envision, your self-assurance skyrockets. No matter what the reason, rest assured our team will provide equal care and attention, so you get all the benefits of this transplant in a comfortable and stress-free environment.
Here are some of the advantages of getting a sideburn hair transplant:
Scarring within the sideburn area of the face: Many individuals have scars, from acne scars to other forms of trauma. Whether it is a surgical or accidental form of scarring, sideburn transplants at Vera Clinic, the best hair transplant Turkey can mask your imperfection.
Thinning sideburn hair: Whether it is due to aging, damage, or lifelong patchiness, a sideburn hair transplant can restore your sideburns to their full potential.
Previous removal of sideburns: If you have received another form of cosmetic or medical surgery, you may have already had your sideburns removed. With a sideburn hair transplant, we can right this wrong and replace your sideburns where they belong.
Structural symmetry: Sideburn transplants assist in leveling out your uneven sideburns, resulting in a facial complexion that appears much more symmetrical than before the procedure.
Thicker, natural-looking sideburns: You can say goodbye to patchiness with the added follicles we apply, meaning your new sideburns stand out or blend into your pre-existing facial hair.
Fashion: Bigger, bushier sideburns can be a desirable look. Getting a sideburn transplant will allow you to become the stylish person you have always wanted to be, with a set of designer sideburns explicitly tailored to you and your aesthetic.
Why Choose Vera Clinic for a Sideburn Hair Transplant?
At Vera Clinic, hair transplant clinic Turkey, we are highly passionate about ensuring our patients' satisfaction, regardless of their treatment. Before your surgery, we will answer any questions regarding your procedure and discuss anything you need to understand before booking your surgery.
We ensure long-lasting results and confidence in your decision to choose us. Our experienced and board-certified plastic surgeons are available to discuss your needs, concerns, and thoughts. If you want to learn more about sideburn transplants, Vera Clinic, the best hair transplant clinic Turkey, is the place for you. At Vera Clinic, hair transplant clinic Turkey, we have the following:
✓ State-of-the-art facilities
✓ Qualified and experienced medical team
✓ Accommodation and onward travel included
✓ Expert aftercare and patient care
✓ High-quality standards of service
✓ Permanent, natural-looking results
✓ Trusted destination for medical tourists
✓ Affordable procedure costs
Am I Eligible for a Sideburn Transplant?
1 – Cause of Hair Loss
Suitability for a sideburn transplant will depend on the reasons for hair loss. Whether you have been experiencing symptoms of alopecia, such as traction, androgenic, or alopecia marginalis, or have other reasons for having hair transplanted to your sideburns, we can assess your suitability.
2 – Donor Hair Density
You will need plenty of donor's hair on your head to ensure we can successfully perform a sideburn transplant. This will be assessed during the consultation so we can manage the expectations you want to achieve. A lack of donor hair density means this procedure is not suitable.
Sideburn Transplant in Turkey: The Process
A sideburn hair transplant at Vera Clinic, a hair transplant clinic Turkey achieved with the well-known FUE hair transplant method, ensuring you have the best looking, sharpest new sideburns money can buy at the shallow end of the sideburn hair transplant cost. The process is relatively simple and similar to any other hair transplant. A surgical procedure takes place to restore hair on the sides of your face in front of your ears, allowing you to possess a natural-looking set of sideburns.
It's a minimally invasive procedure involving follicles extracted from a donor area and grafted to the sides of the face you wish to fill out with the hair.
We ensure at Vera Clinic that our sideburn transplants are grafted with exceptional levels of care, being confident that the angular direction of the hair follicles transferred is appropriate and aligned with your current hair and that the correct number of hair follicles are used.
For men, more grafts may be needed to properly integrate with their beard and blend appropriately, whereas, more often than not, women require fewer grafts.
1 – Before the Treatment
Enjoy a free hair analysis to ensure a Sideburn hair transplant suits your needs.
Free Virtual Consultation
A free, bespoke consultation to ensure you have the best results from a sideburn hair transplant from one of our experts consultants.
Our team will look after you from day 1 and are available 24/7
2 – During the Treatment
We can help to arrange VIP transport to and from the airport, as well as to our hair clinic for your treatment.
We will assist with arranging accommodation for your stay. Hence, you feel safe and comfortable for the duration of your trip.
We can offer translation services to assist you during your trip. We speak your language!
We will provide you with all the medication and care you require as part of your journey.
3 – After the Treatment
We offer regular checkups with our expert team to ensure your cosmetic procedure is healing correctly.
We believe in value and quality over quantity, so we offer a guarantee on our treatments.
We will provide consistent advice post-procedure on additional treatments which may assist with your long-term results.
Preparing For Your Sideburn Hair Transplant
A sideburn hair transplant consultation is a crucial part of the process. With it, there is a way of knowing which type of treatment will give you the desired results. During your consultation, your doctor will ask you about your medical history and what you hope to achieve, as well as examine your current hair loss condition. This will allow us to produce the ideal treatment plan for your needs.
You should discuss your expectations and ideal sideburn type with your doctor and ensure you're both on the same page about your desired final look. You must quit smoking and drinking at least one week before your surgery and stop taking blood-thinning medication, as this can affect the healing process.
3 weeks before surgery, you must give your doctor your entire medical history, including any medications you currently or have previously been prescribed. You must also quit smoking at least one week before (including e-cigarettes) as tobacco can boost the chances of post-surgery risks, such as infection, and delay recovery.
1 week before surgery, you must avoid taking any herbal supplements. Any blood-thinning medicine that you are currently taking (such as aspirin or ibuprofen) must also stop at this time. Painkillers that don't include paracetamol are also prohibited, and you should inform your surgeon if this is necessary.
Patients should avoid eating or drinking anything the night before surgery and the morning of surgery in the 8 hours leading up to surgery. You must also shower the day before or the morning of your surgery. Your face and beard should be washed and cleaned, and you must avoid any beard styling products. It's also important to wear clothing easily removed from your head, such as a wide-neck t-shirt or a button-down top.
Sideburn Transplant FAQs
What Is the sideburn hair transplant cost?
Sideburn transplant costs in Turkey are the most affordable than anywhere else in the world. To find out the sideburn hair transplant cost for you and your specific needs, contact us, and we can advise you with an estimate of how much your sideburn transplant cost will be. Turkey provides the most affordable transplants worldwide, with sideburn hair transplants costing 50% cheaper than the UK, USA, or other parts of Europe.
Does a sideburn transplant last forever?
Sideburn transplants are growing in popularity due to their long-lasting effects. Once the transplanted hair has started to regrow, it will act the same way as your normal hair to create a permanent solution. The results of a sideburn transplant are visibly long-lasting and considered permanent.
How long does it take to heal?
After your sideburn transplant, it's typical for healing to take somewhere between 6 and 12 months. Once the healing process is complete, the transplanted follicles begin to grow hair that will fall out of the bald areas; however, this hair will continue to grow as you get older. The movement of the hair follicles is permanent, and there is no way to return them to their previous position.
What should I expect from a sideburn transplant in the long term?
Your transplant is designed to last for an extended period. Yet, as you grow older, your hair follicles will gradually become thinner. Nevertheless, they will continue to generate at least some hair throughout your lifetime.
What makes Turkey the ideal choice for a hair transplant?
At our healthcare facility, we provide first-rate FUE, sapphire, and DHI hair transplants that enjoy considerable demand both locally and globally. Our accomplished medical professionals are committed to delivering the finest outcomes for our patients, ensuring that you depart with a renewed sense of confidence and vitality. Moreover, our doctors rank among the top globally, with unparalleled proficiency in hair transplant procedures.
In Istanbul, we understand that each patient has distinct needs, and we take pride in offering tailored solutions to match your individual objectives. Whether your goal is to rejuvenate your hairline or increase thickness in sparse hair, our expertise and know-how will guide you towards attaining the results you seek.
Thus, when searching for a premier hair transplant Turkey service in Istanbul, consider our medical facility as your top choice. Our team of specialists is committed to delivering the highest standard of care and a triumphant hair transplant Turkey journey. Visit us in Turkey's magnificent city and depart with the self-assurance you merit.
Is it possible to receive more than one kind of treatment simultaneously?
Are you curious if you can have multiple treatments concurrently? At our clinic, we offer an extensive consultation to ascertain the appropriate number of treatments for you.