Both breast augmentation and breast reduction have become increasingly more popular in recent years, or rather more openly talked about. While both breast surgeries may seem like polarising alternatives, the two are sought after by patients who seek proportionality, suffer emotionally, and sometimes physically from their natural breast size. A wave of celebrities has come forward about their breast reduction experiences, the causes that drove them towards it, and their life after surgery. With all the transformations taking place in Hollywood under the scrutinizing judgments of the public eye, a new perspective was unconcealed regarding the procedure. The following article will address the topic from a medical perspective as well.
Breast reduction in Hollywood
Instagram has become an online portfolio for successful transformations and glow-ups, the surgical and the natural alike. The app has offered a platform for regular individuals and high profile persons to express their personal body image issues and the effect of plastic surgery on their self-esteem and by extension their quality of life. The drastic destigmatization of plastic surgery has switched the perception of the medical realm to become more a means to achieve the ultimate body according to one's measurements and needs whether emotional or physical. Among the most
1
– Ariel Winter
The Modern Family star Ariel Winter had what is possibly the most controversial breast reduction in Hollywood provided hair young age. At only the age of 17, Ariel had to undergo a breast reduction to take her 32F cup down to a 34D. The star's sudden and rapid breast growth that started at the tender age of 15 has subjected her to over sexualizing, back pain, and bullying; all of which motivated her decision to undergo the procedure.
During an interview with Glamour.com Ariel commented on her rapid growth of breast tissue:
"It really did happen overnight, I remember being in my sister's wedding and being so flat and thinking, 'I just wish I could grow boobs!' And then overnight I did. But then they kept growing and growing and growing, and it didn't seem like they were going to stop."
The constricted wardrobe options were the last straw before the young star decided to go under the knife in June of 2015.
"I didn't want to not tell anybody and then have another million stories [say], 'What happened to Ariel? She looks so different.' And I also think there's some good that can come from [telling] my story," she told Glamour.com. "It's something that I did to better my life and better my health, and I think that can benefit a lot of young girls. I have felt happier with myself than I ever have."
2
–

Amber Rose
Amber Rose has risen to fame through her luscious curves and extremely attractive physique. The Insta model shared the vicissitudes of her treatment with her fans on Instagram, making her makeover one of the most transparent breast reduction in Hollywood. The star has been always keen on receiving the procedure and open about it. Under one of her pictures in July of 2017 Rose wrote "thinking about getting a breast reduction this year." She began preparations for the transformation in early 2018. Rose communicated with her fans through a series of captions under her pictures on her Instagram account. Under one photo she wrote "My Breast Reduction surgery is tmrw," In another picture, she expressed her fears regarding the approaching procedure "I'm really scared and really excited at the same time."
The physical pain caused by the size of her breasts was one of two motives the Insta model looked and considered a breast reduction. Rose revealed, "my boobs are stupid heavy, my back hurts and I can't wear cute lil shirts without a grandma bra."
Rose went down to a size 36DDD which not only eliminated back pain but was a relief fashion-wise, the star commented on her wardrobe choices to PEOPLE magazine saying "it's like a dream come true" to wear things like spaghetti-strapped tank tops. "Now when I'm running out the door, I don't have to search for the right bra to fit within the shirt or to match the color of the shirt, so, it doesn't show and look gaudy," she added. "I can kind of just throw it on and I'm like, 'This is amazing!' I've been missing this my whole life."
3
–

Scarlet Johansson
Scarlet Johansson has created a mystery regarding her breast size and her breast reduction in Hollywood was an ambiguous case. Her initial increase in breast size and later reverting to her original B cup size has created somewhat of a spark of curiosity among the public. Whether the curvacious Johansson has had a breast implant is not yet clear and the Hollywood actress has never come forward about her procedure. In 2018 however, there was a drastic transformation in Johansson's chest that led to speculations of a breast reduction being involved that could have been a breast implant removal. The drop-dead gorgeous Johansson star is yet to report about her familiarity with cosmetic surgery and the procedures she has had.
Benefits of breast reduction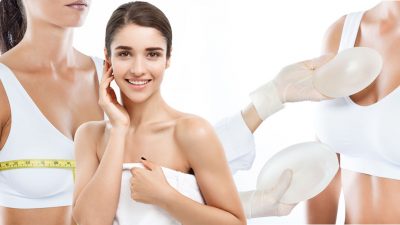 Breast reduction is ideal for a versatile range of issues, for one going down a few says can relieve back and shoulder pain and improve posture. Back pain due to lack of proportionality big breasts is very common and among the main reasons, breast reduction is sought. Others seek the procedure to achieve a proportional physique that allows for a wider array for wardrobe choices. Big breasted women tend to be confined to a select few items of clothing that are more likely to complement their figure and fit their curves well.
Much of what was mentioned applies to most patients of breast reduction, leading to higher self-esteem and by extension a better quality of life.
Does breast reduction affect breastfeeding?
The impact of breast cosmetic surgeries on the breast is a cause of concern for most patients regardless of the procedure. We have previously addressed the role of breast augmentation on breastfeeding on the blog you can read here.
Breastfeeding after breast reduction can prove to be a challenge, however, while the procedure is to inherently impact the nerves responsible in breastfeeding, it does not completely impair the process. Many moms to be who have had breast reduction seek the advice of a breastfeeding consultant who is capable of preparing the breast for lactation after a breast reduction surgery. In most cases, the damaged nerves gain their order to facilitate the process of milk production and feeding.
The training is performed professionally, certain exercises and stimuli can help assist the affected nerves with recovery.
In summary
Breast reduction is not an uncommon procedure, nearly 500000 women in the US seek the procedure annually. It is mostly performed to alleviate back pain, obtain a proportionate figure, expand one's fashion choices, and improve one's quality of life.
For further information, book a free online consultation with the Vera Clinic.