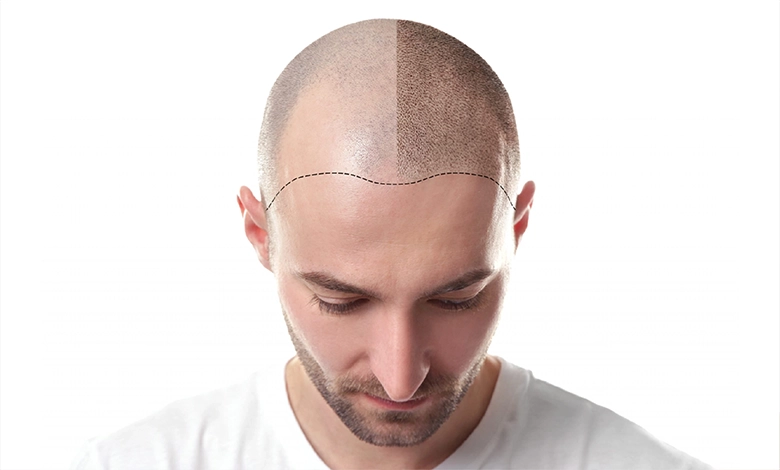 If hair loss is leaving you with a hairline that is not symmetrical or patches on your scalp, hair pigmentation treatment can be a solution to your problem. At Vera Clinic, our hair loss specialists can provide you with a hairline and all over coverage with hair micropigmentation that can restore a youthful aesthetic and raise your hair confidence. With natural-looking results that can be long-lasting, we can assess your suitability for pigmentation treatment and arrange a cost package including flights and accommodation.
Book a consultation today and begin your journey to address and treat your hair loss with our experts. As well as cosmetic and dental aesthetic surgery, we perform hair transplants in Turkey at a much lower cost whilst keeping the highest quality standards.
What is Hair Pigmentation In Turkey?
Hair pigmentation, also referred to as scalp pigmentation or micropigmentation, is a non-invasive procedure that requires no surgery, that helps to cover any patches of hair loss. If you suffer from Alopecia Areata or have a receding hairline such as experienced with Female or Male-Pattern Baldness, the areas of hair loss can be injected with pigment into the skin. Like having a tattoo performed, the bald areas are essentially filled in to restore an all-over coverage aesthetic. Whereas an FUE Hair Transplant will move hair follicles and promote hair growth, hair micropigmentation is an alternative aesthetic treatment that will provide a buzzcut look.
Hair Micropigmentation Benefits
There are many benefits to choosing pigmentation treatment here at Vera Clinic, especially if you do not want to undergo a full hair transplant. These can include:
An even contrast between the skin and hair follicles
Restoring asymmetrical hair line
Minimally invasive, non-surgical treatment
Long-lasting results between 4 to 6 years
Minimal pain; like having a tattoo
No downtime; return to daily activities immediately
Who is Suitable for Pigmentation Treatment?
This form of hair loss treatment is ideal for those looking to resolve their concerns with an aesthetic approach. Those who are looking for hair regrowth are more suited for a hair transplant in Turkey, as scalp pigmentation will not help with this. Also, as the pigmentation process does not transplant hair or stimulate hair growth, it is suited for those happy with a short hairstyle, specifically a shaved head look. If you have patches of hair loss but still hair growth in other areas, you will want to consider shaving this hair so that you have an overall even look.
As the procedure is non-surgical and doesn't require you to have hair growth such as needed for a hair transplant, scalp pigmentation is suitable for anyone over 18 with hair loss. We recommend that all patients interested in hair micropigmentation book a consultation so that our medical team can fully assess their suitability before going ahead with treatment.
The Procedure – Scalp Pigmentation
Before the hair pigmentation treatment, your consultant will mark on your head the new hairline you wish to achieve. This will form a guide for where the scalp pigmentation will be applied using a thin needle. Whilst the sensation is like having a tattoo, the type of needle and the ink used do differ. Hair pigmentation treatment typically uses a smaller needle so that accuracy can be achieved. The hair micropigmentation ink is not injected as far down as tattoo ink, instead usually around 2 layers deep. This is to avoid the ink from dispersing and allows the surgeon to provide a precise aesthetic that looks as similar to shaved hair follicles as possible. Also, as the ink is not applied as deep as with a tattoo, minimal pain and discomfort will be experienced throughout. Before you undergo the treatment, the pigmentation ink will be matched exactly to your hair colour, although other colours can be personalised for your desired results.
Once the procedure is completed, you will be advised to avoid excessive sun exposure and use an SPF to treat the area of hair pigmentation. The results can be immediately seen and depending on the level of hair loss needing to be addressed, may require to follow up sessions for the complete aesthetic
Book a Consultation Today for Pigmentation Treatment In Turkey
Our team are ready to help you achieve the hairline and overall coverage you've been looking for. Whether you have an undesired hairline after hair loss or bald patches that you want to address, hair pigmentation treatment can be the ideal option for you. Our facilities use state-of-the-art equipment and highly trained surgeons and technicians. We take our quality standards seriously and have helped many patients achieve hair confidence again.
Book a consultation for an assessment and get in touch with our expert team today. Please be aware that if you'd like to undergo hair micropigmentation treatment, this is currently performed at our facilities based in Germany. You can find out more about other hair loss procedures we can provide, including eyebrow transplants in Turkey, facial hair transplants and sapphire hair transplants.
Hair Pigmentation Treatment FAQs
How Long Does Hair Micropigmentation Last?
A benefit of having hair micro pigmentation is the long-lasting results, with some patients experiencing 6-8 years before needing further treatment. Whilst the procedure takes a few hours depending on the extent of hair loss, and maybe performed over several sessions, the results will provide a near-permanent aesthetic to help restore your hairline and hair confidence.
Does Scalp Pigmentation Come as a Package?
Yes, all treatments available at Vera Clinic can include everything from flights to accommodation and transportation to our facilities. We can provide a quote package price during your initial consultation which can work out to provide huge savings compared to having similar treatment closer to home. During your stay, we can provide 5-star hotel accommodation so you can enjoy any downtime in the best way possible before your return flight.
Will Pigmentation Treatment Help with Hair Regrowth?
No, hair pigmentation treatment is for aesthetic purposes only and will not be effective if you wish to achieve a full head of hair or regrowth. As we are hair loss specialists, we can help you if a hair transplant is more what you had in mind. Suitable for both male and female patients, our FUE hair transplant can help you achieve a natural-looking, full head of hair to restore a youthful look.
H3: How Long Does Hair Pigmentation Last?
Hair pigmentation lasts between 4-6 years, for most of our patients, it lasts for 6 years meaning it is classed as a semi-permanent treatment. The length of time it might last will differ from person to person, but it is usually close to the 6-year mark.
Can Both Men and Women Undergo Hair Pigmentation?
Yes, both men and women can undergo hair pigmentation, it is suitable for both genders and anyone that needs to cover patches on their scalp or a hairline that isn't symmetric. Don't hesitate to contact us if you have any questions about the procedure.
Is Hair Pigmentation Safe?
Yes, hair pigmentation is always classed as safe as it's minimally invasive and a non-surgical option for men and women. It's one of the fastest hair loss solutions that many go for due to a short downtime. Our pigments are made from gentle ingredients that will make your hair look realistic and natural. There won't be any drawn blood in the process, making it even safer. All our surgeons are experienced and award-winning for their attention to detail and amazing skills.
Will the Pigmentation Match My Hair Colour?
Yes, we ensure your hair colour will match the pigmentation we use, but you will be given the choice of different hair colours if you would prefer a lighter or darker shade. If you find the pigmentation is fading, we offer a touch up for your hair pigmentation treatment.
Why Would I Need More Than One Session for Hair Pigmentation?
Hair pigmentation is usually performed over a few sessions, especially if it doesn't show up properly. Those who have skin conditions that affect their scalp will likely need more sessions when it comes to hair pigmentation, especially if they have suffered from eczema, psoriasis, a dry scalp and dandruff, poor scalp hygiene or dermatitis. Skin also naturally exfoliates itself so you might find your hair pigmentation treatment fades faster than others in some cases, depending on natural exfoliation.
Are There Any Side Effects of Hair Pigmentation Treatments?
At Vera Clinic, it is unlikely you will suffer from any negative side effects after your hair pigmentation treatments, it would be unusual for this to happen. However, some patients do experience itching, redness, and dryness on their scalp after the procedure, which should subside after a few days. On rare occasions, patients might suffer burning or infections.
Can I Cover the Area After Treatments?
Some of our patients ask about wearing a hat straight after the treatment, but it is best not to cover the area so it can heal as soon as possible. However, a silk-lined hat could be okay, or a baseball hat made from cotton. We recommend you stay away from anything made from wool or a tight beanie hat as this could cause a reaction or infection. You will need to avoid a sweaty scalp and keep the area clean.
How Is the Front Hairline Formed in The Procedure?
During the procedure, the surgeons will form a front hairline on your head to get rid of receding hairlines or bald patches. We always ensure we don't aim too low near your face for the first session especially, as we can add to this if you decide you want the hairline to be lower. Before we start the procedure, you will have a consultation and we will mock-up the hairline so you know exactly where it will be going. Making your hair look natural is at the forefront of our procedures and we want your new hair to suit the frame of your face.
Will My Existing Hair Be Damaged?
Our hair pigmentation treatments can promote the growth of your hair, not damage the existing hair. Luckily, it creates blood circulation within the scalp meaning it won't damage any hair that is already on your scalp and head. This specific procedure will only bring you benefits!
What is Essential for Our Clinics to Have?
To successfully perform hair pigmentation, we pride ourselves on offering the best services in Turkey. These are the main essentials needed to perform hair pigmentation services, these include a clean clinic that regularly undergoes checks, experienced surgeons, and comfortable space. We also pride ourselves on advice and aftercare at Vera Clinic as we want our patient's experiences to be as pleasant as possible.
What Is the Best Aftercare Advise?
The best aftercare advice for patients that have taken part in hair pigmentation treatments is to make sure your scalp stays dry after the procedure (usually for about 4 days) and ensure you moisturise it to help it heal after the 4 days have passed. After the recommended time to keep your scalp dry, you should wash your scalp and ensure it is kept clean.
When Can I Cut My Hair After Pigmentation Treatments?
After the pigmentation treatment, you can cut your hair after 5 days with clippers, but you will need to be especially gentle. You will need to be very gentle with the area for at least 10 days after the treatment procedure.
How Can I Make My Hair Pigmentation Treatment Last?
The long-term treatment when you have completely healed after hair pigmentation is to avoid swimming pools and hot tubs because of the chlorine levels. This could affect the colour of your hair and make it fade quickly. Keep moisturising, use sun cream on your scalp (a high factor) and try to avoid direct sunlight. These tips will help you avoid the fading of your hair pigmentation treatment and hopefully make it last for as long as possible.