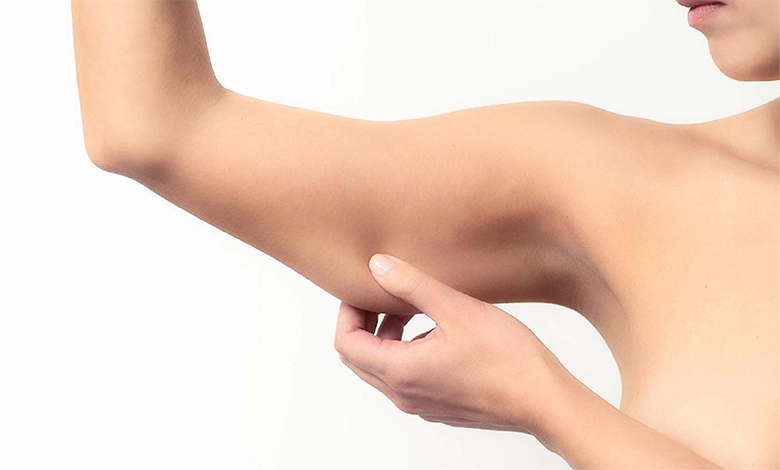 If you have noticed the skin on your upper arms has become saggy or has excess fat present, it can be difficult to remove this with diet and exercise alone. Fortunately, there are affordable treatment options available to help you if you have a concern with this part of your body. When researching procedures, an Arm Lift cost in Turkey is an affordable treatment to consider that could save you time and money to achieve the perfect aesthetic for your arms and restore your body confidence.
Want to find out more? Below, you'll find information about the Arm Lift Surgery in Turkey that we perform here at Vera Clinic within our state-of-the-art facilities. To get further advice, book a consultation and we can discuss your Arm Lift cost in Turkey. Contact the Vera Clinic team today.
What is an Arm Lift in Turkey?
Arm Lift surgery in Turkey is a precise procedure commonly performed to tighten and lift the loose skin of the upper arms, also medically referred to as Brachioplasty. The underarm is tightened and smoothed and any excess fat is removed leaving your arms looking younger and more toned. There can be many reasons for wanting to have an Arm Lift carried out, whether you have an excess build-up of fat deposits on your upper arms that you would like to reduce and tone, or if you have excessive sagging skin in this area you want to tighten. Sagging skin can sometimes be the result of rapid weight loss that leaves the overstretched skin in place, or as a result of the ageing process where the skin loses its elasticity over time. The benefits of Arm Lift surgery in Turkey include:
Smooth, toned upper arms
A more youthful appearance
Immediately noticeable results after surgery
Full desired aesthetic in 3-4 weeks
Expert medical care and 5-star accommodation
Arm Lift cost in Turkey is much lower & affordable than in the UK
Here at Vera Clinic, our expert medical team can address any excess fat or loose, sagging skin on your upper arms by performing Arm Lift surgery in Turkey. Based in Istanbul, we offer high-quality standards whilst providing affordable treatment, with our Arm Lift in Turkey prices being much lower than you'll find in the UK. An Arm Lift in Turkey is one of many cosmetic surgery treatments we can help you with, as well as our specialist hair transplants in Turkey if you are concerned with hair loss.
Who Is Suitable For Arm Lift Surgery in Turkey?
All patients who are looking at an Arm Lift in Turkey will need to undergo a full consultation first. The final decision on your suitability will come down to our surgeons who will be potentially performing the procedure. If they feel there is enough to warrant Arm Lift surgery in Turkey, they will be happy to recommend you. You are suitable for an Arm Lift if you:
Have excessive fat deposits in your upper arms
Have excessive loose, sagging skin caused by weight loss or ageing
Are a non-smoker
Have maintained a stable weight for at least 6 months
Have not got any connective tissue disorders
Are not on any long-term oral steroids
However, Arm Lift surgery in Turkey isn't for everyone, and your doctor may caution you against it if you:
Are significantly overweight
Have frequent changes in your weight
Have a medical condition that interferes with wound healing
Are a smoker
Arm Lift Surgery in Turkey – Risks
Like with any cosmetic surgery, there are various risks to consider before choosing our affordable Arm Lift cost in Turkey or undergoing this type of treatment in the UK. The risks involved in the procedure can include pain and discomfort, excessive bleeding, permanent scarring as well as nerve, muscle, or blood vessel damage and more. It's always a good idea to consider both the benefits and risks before proceeding with any type of surgery. Other risks include:
Incision scars from your Arm Lift in Turkey are permanent but are usually carried out in areas that aren't easily visible. Rarely, the incisions made can result in raised, red scars. However, you can improve the appearance of scars with corticosteroid injections or other treatments.
Skin sensitivity. During the arm lift, the repositioning of your arm tissues can affect superficial sensory nerves meaning you may feel some temporary numbness.
Asymmetry in the shape of your arms. During the changes of the healing process, asymmetry could occur which could affect the symmetry of your arms. It's also important to note that while the surgeon will try and make your arms as symmetrical as possible, perfect symmetry isn't always possible.
Problems with stitches. Stitches are used to secure the arm's new shape. Rarely, the stitches may work their way to the surface of the skin where they will need to be removed. This can, therefore, cause inflammation of the skin and you may need additional surgery.
After your surgery, side some side effects are normal, however, if you experience any of the following side effects, contact your doctor immediately:
Shortness of breath
Chest pains
Irregular heartbeat
Redness of the skin and a fever
How to Prepare For Your Arm Lift Surgery in Turkey
During your consultation, your plastic surgeon will likely review your medical history, so be prepared to answer questions about ongoing and past medical conditions including any medications you're taking or have taken. Your surgeon will also carry out a physical exam to determine your treatment options and they will also review the undersides of your arms. Expectations will also be discussed in your consultation including how you expect the appearance to look, your expectations of the surgery, recovery, scarring and any risks.
Before your surgery, you will be advised to quit smoking as this decreases the blood flow in the skin and can therefore slow down the healing process. You will also be advised not to smoke during recovery. Your surgeon will advise you on any medications to stop taking (such as aspirin and any anti-inflammatory drugs and supplements). You will also need to arrange for help during your recovery such as someone to drive you home after your surgery and stay with you as you recover.
Arm Lift Surgery in Turkey – Procedure
The duration of Arm Lift surgery in Turkey is approximately 3 hours, and during this time general anaesthesia will be used. The areas of your upper arms will be marked by the surgeon for where the incisions will be made, usually on the back and sides of your upper arm. This can also be approached from the armpit or the top of your elbow, but your surgeon will determine the best method for you.
Your upper arms will then be tightened, and the tissue reshaped before the skin is then stitched back in place. If you have excess fat, this will be removed through liposuction before the wounds are stitched also.
Arm Lift in Turkey – Recovery & Results
After your Arm Lift in Turkey, your arms will be covered in bandages and small tubes may be placed in your arms to drain any excess blood and fluid. A surgeon will remove these after a few days.
Patients undergoing an Arm Lift in Turkey can expect to be able to resume daily activities and routine within a fortnight of the surgery. Swelling from the arm lift surgery will begin to fade out and completely diminish within a week of the procedure. Patients will notice an immediate change in appearance, however, a further 3-4 week period is when optimum results will be seen. Patients will experience further improvements during this time with their arm's overall appearance, providing the desired aesthetic. In the first few days and weeks after an arm lift you must:
Avoid lifting your arms above shoulder level for three to four weeks
Avoid any physical or athletic activities that include your arms for four to eight weeks as this may stretch incisions after surgery
Take pain medication as and when needed and use topical or antibiotics as directed to prevent infections in the wound
The results of an Arm Lift in Turkey will vary between individual patients depending on the amount of excess fat and sagging skin needing to be removed. Your surgeon will be able to talk you through the procedure that is bespoke to your requirements and answer any questions you may have before proceeding.
Arm Lift Surgery in Turkey – Aftercare
After you have had the Arm Lift surgery, the doctors at Vera Clinic will prescribe medication to you to aid your recovery. You will be provided information and instructions that you will need for your aftercare so that you can experience a comfortable recovery. If you have any questions at this stage, you can feel free to ask the medical team who will be happy to help. They will advise you of how long before you should begin your onward travel to ensure there are no complications before your return flight.
Choose a Low Arm Lift Cost in Turkey & Book a Consultation Today
We look forward to welcoming your query for an Arm Lift in Turkey and helping you achieve the sculpted arms you desire. If you have any questions about the Arm Lift in Turkey prices or any of our other cosmetic, dental or hair loss procedures, please feel free to contact us.
Arm Lift in Turkey FAQs
Is an Arm Lift Cost in Turkey Much Less Than in the UK?
Yes, the Arm Lift in Turkey prices we quote can work out to be much less than receiving the same treatment in the UK. The total package cost of the procedure, accommodation, flights, and transportation can work at the same as having just the surgery in the UK, so you can potentially make huge savings overall.
Is it Safe to Undergo Arm Lift Surgery in Turkey?
All procedures are completely safe to have and are only performed by our qualified medical team of expert surgeons. You can find out more about the Vera Clinic team here who work to the highest quality standards to ensure your experience and treatment is excellent. The facilities here in Istanbul, Turkey, are fully equipped using state-of-the-art technology, all within a clean and friendly environment. You can view photos of our hospital facilities here, and our team our on hand to answer any further questions you may have.
Does the Arm Lift Cost in Turkey Include Accommodation?
If you are travelling to Istanbul, Turkey, for Arm Lift treatment, we can help you arrange all flights and accommodation as well as transportation to Vera Clinic in the heart of the city. We can provide you with a total cost package and Arm Lift in Turkey prices that are affordable for you; all you have to do is ask and we'll see what we can do. The accommodation we provide includes 5-star hotels to ensure your stay in Istanbul before and after treatment is as pleasant and relaxing as possible. Get in touch with us now to arrange your consultation where accommodation and travel will be discussed.