If a permanent solution to your hair loss is required, at Vera Clinic we can provide the latest stem cell hair transplant in Turkey, providing the most advanced treatment solution. We are pleased to offer this revolutionary stem cell treatment for suitable patients who have been searching for the perfect solution with natural results. As we are world-renowned for hair transplants in Turkey, choosing Vera Clinic is the right choice for those looking for first-class surgical procedures performed by an expert medical team. We can help you save thousands on hair loss surgery from our Istanbul, Turkey, location, where we have many satisfied patients experience life-changing results.
Interested to find out more about stem cell hair treatment in Turkey? Book a consultation online and we can start you on your journey to a permanent solution to hair loss. Below, you will find further details on stem cell hair transplants, how it works, and what results you can expect.
What is a Stem Cell Hair Transplant?
Similar to a traditional hair transplant in Turkey, stem cell hair transplants are effective procedures in practically reversing the effects of hair loss. As the name suggests, they are focused on the innovative and advanced use of stem cells for hair loss in order to encourage hair re-growth.
Stem cells have the potential to develop and adapt to different parts of the body.
They are known to divide and renew themselves in order to become the types of cells they need to be in a particular part of the body to repair certain tissues by replacing them.
Stem cells for hair loss work in the same way, helping us to provide this modern solution for patients with an expert stem cell hair transplant procedure.
Our stem cell hair treatment in Turkey is renowned for offering faster results than even a regular FUE hair transplant, while also being much more discreet.
If you are looking for a way to reverse the effects of hair loss subtly and discreetly, stem cell hair treatment in Turkey may be the perfect solution for your needs. Unlike a regular hair transplant, using stem cells for hair loss guarantees no stitches or scars, while your hair re-grows naturally.
Stem Cell Hair Transplant Before And After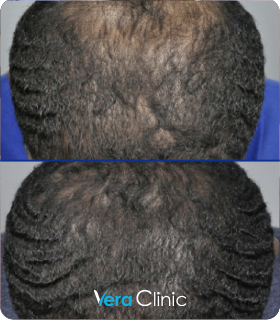 Advantages of Stem Cells for Hair Loss
Natural-looking results
Can treat full baldness and alopecia
No scarring as minimally invasive
Quick procedure and fast recovery
Improve the durability of weak hair follicles
Stimulate older hair follicles for better regrowth
Can be used from anywhere on your body
Stem Cell Hair Transplant in Turkey – Procedure
The procedure for a stem cell hair transplant is relatively simple and our expert team at Vera Clinic will do everything possible to make you comfortable throughout.
You'll be put under local anaesthetic, and we will take a small fat sample in a minor liposuction procedure.
The fat will be taken from a usually stubborn area using a circular blade and will then be divided into two portions using a centrifuge.
Stem cells are separated from this sample so that they are ready for injecting.
During the stem cell hair transplant, the purified fat will be injected under the skin of the scalp where hair loss is experienced. This is a super enriched tissue injection which is regenerative in itself.
If successfully injected, the new stem cells implanted will create new growth. When growing, this will blend with the existing hair to provide stunning results.
As we age, we slowly lose fat from our scalp and so the relationship between hair loss and fat loss goes hand-in-hand. As well as being regenerative for the scalp, at Vera Clinic, we like to think of the process like this; the purified fat injection works as the 'soil' in which the stem cell 'seeds' can be sown once they are injected. This combination offers an effective treatment for hair loss and a powerful, regenerative option to regrow hair anywhere on the body, as the fat cells function as a 'food' source for growing hair follicles.
Stem Cell Hair Treatment in Turkey – Aftercare
Once your procedure has been successfully completed, you will be provided with an aftercare kit to help assist with recovery. You may experience:
Swelling, scabbing and tenderness in the transplant area – this should subside within a week of the procedure.
Minimal pain and discomfort will be experienced, but you will be provided with pain relief and aftercare products to assist.
You should avoid strenuous exercise during the recovery period of a week to avoid irritation to the transplant area.
Your surgeon and caregivers will provide full details to ensure your recovery goes to plan and you can enjoy the hair regrowth you desire. As our state-of-the-art hospital facilities are designed to provide you with a first-class service in both care and surgical procedures, we can accommodate your every need from consultation all the way through to your recovery. During your stay in Istanbul, as the recovery time is fast, you can enjoy your time here in Turkey as a stem cell hair transplant UK patient.
Have any questions about this advanced hair transplant procedure? Please contact us and we'll be happy to help. Book a consultation for us to assess your needs and requirements and we'll inform you if a stem cell hair transplant is an ideal solution for you.
Stem Cell Hair Transplant FAQs
How Long is the Recovery After a Stem Cell Hair Transplant?
The recovery and downtime needed after a stem cell hair transplant is quite low. In fact, you can get back to your regular commitments the very next day, however, you will not be able to drive yourself home from the procedure due to the effects of the local anaesthetic. You should also avoid excessive exercise for at least one week following the procedure. Other than this, the recovery is certainly minimal, although you may experience some discomfort in the days following the procedure. To help with any pain, you should take regular painkillers to relieve any tenderness. You will be provided with an aftercare programme to follow.
Should I Consider a Stem Cell Hair Transplant?
Any healthy adult may undergo a stem cell hair transplant as long as they are fit and healthy for the
procedure. If you have any doubts, speak to your usual doctor, and get in touch with a member of
our team for a personalised consultation on stem cell hair treatments in Turkey. During your consultation, we will further assess your hair loss and discuss your desired results. From this, we will recommend whether a stem cell hair transplant is best for you, or whether a similar procedure would be best. We will only proceed with surgery if we deem an individual suitable for this and the results you want can be achieved.
What Issues Can Stem Cell Hair Treatment Help?
Stem cell hair treatment is suitable for a variety of patients, and thanks to its innovative process, provides those who may not be suitable for other types of hair transplant a solution. The main issues most people want to resolve are those stemming from hair loss on the scalp, thinning hair or suffering from conditions such as alopecia areata, and female or male pattern baldness. The benefit of a stem cell hair transplant is that you will not need donor hair to be extracted, such as with a FUT or FUE procedure. As stem cells can be acquired from fat anywhere on the body, this provides options for those with no healthy donor hair after consultation.
How Much Does Stem Cell Hair Treatment in Turkey Cost?
If you're wondering what the cost might be for stem cell hair treatment in Turkey, then don't
hesitate to get in touch today and a member of our expert team will be happy to give you a free
quotation. Like all cosmetic surgery and hair transplant surgery at Vera Clinic, the costs of having this treatment in Turkey can provide huge savings when compared to the rest of the world. The costs of a stem cell hair transplant in the UK or US will be considerably more. All of our procedures are unique to each client, so for an accurate quotation and more specialised information on how stem cell hair treatment may help you, please book a consultation.
Will a Stem Cell Hair Transplant Be Painful?
There are two parts to the procedure, but throughout, any pain will be minimal as well as any discomfort. Before we extract the fat sample, you will be administered local anaesthesia to numb the area. This means you shouldn't feel the surgery being performed. Once the solution is ready for injection to the scalp, the same applies so that you will feel comfortable throughout. During a consultation, we will discuss the procedure in detail with you and this gives you the opportunity to advise us of any requirements you will need, as well as address any concerns you may have. Your aftercare kit will also provide you with everything you need to aid recovery and reduce any pain experienced during healing.
How quickly will hair grow back after a Stem Cell Hair Transplant?
Once the procedure has been successful, the stem cells will begin to work immediately and begin to stimulate growth. It will take a few months before hair usually starts to grow back, so patience is required during the early stages. Even with undergoing an FUE procedure, the transplant hairs will shed making way for new growth, so it is a similar timeframe with the growing back of hair. The full extent of the results won't be seen until at least 6 – 8 months of hair regrowth, assuming your aftercare and maintenance routine is followed.
Are results permanent with stem cells for hair loss?
Yes, as the stem cells are being extracted and injected, this is designed to stimulate regrowth in the area of hair loss. This means that over time your hair will grow back naturally and provide long-lasting, permanent results. As stem cells can heal and repair tissue, they will continue to do so as long as you do not suffer any damage to the area. It's important to follow the advice for aftercare you will be given to ensure you can achieve the best results.
Where are the stem cells extracted from for the hair transplant?
The stem cells used for your hair transplant can be taken from anywhere on your body, unlike other techniques. The FUE technique relies on the patient having a healthy donor hair region to extract from, usually the back of the scalp. With a stem cell hair transplant, this can be extracted from anywhere deemed suitable by the surgeon.
Will I need to have follow-up surgery after the initial stem cell hair transplant?
Stem cell hair transplants are a one-time procedure, designed to ensure long-lasting regrowth. Like all hair transplants we provide at Vera Clinic, you will be able to benefit from having just one procedure before getting the results you've always wanted. This is why during the consultation process, we will ensure you are the right candidate for stem cell hair treatment first to ensure the procedure is successful. As a relatively new way to treat hair loss, long-term results will vary between patients.