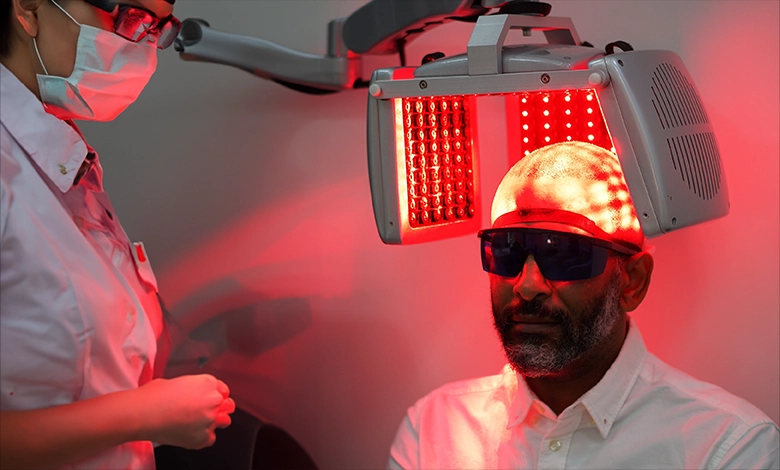 Hair loss is something that affects both men and women of all ages. It can have a huge effect on your confidence and mental health as our hair is often linked with our identity. Although hair loss can be hard, there are treatments available for you whether that be a hair transplant in Turkey or a less-invasive option such as laser hair treatment in Turkey. Our advanced laser therapy for hair loss is the perfect option for those who want small, quick sessions that allow you to resume your daily routine straight after but that have long-lasting effects.
What is Laser Hair Growth Treatment?
Advanced laser therapy for hair loss is carried out with the most up to date laser technology available. It's a tried and tested scalp treatment that has been approved by the FDA as a non-surgical, cutting-edge treatment for those suffering from hair loss and thinning hair. Our lasers are the latest technology in the market for hair retention and hair regrowth as a pain-free solution.
This method of hair restoration treatment has been shown to be effective in helping women's and men's hair return. Laser hair treatment has been shown to regrow hair in over 80% of cases and that all of those have been satisfied with the final results.
How does Laser Hair Treatment Work?
Our advanced laser therapy for hair loss uses infrared energy to help massage and heat the scalp. It also helps to make your pores expand and promote better blood flow to the follicles. As a result, the follicles will receive more nourishment than under normal conditions. This nourishment leads to more cell division and ultimately, more hair growth.
The use of lasers over other light or heat sources all comes down to where they fall on the light spectrum. By using lasers, the frequency is better to stimulate the follicles to promote the growth of the hair. Our laser hair treatment uses a technique called low-level laser therapy that involves light therapy using photons to support the scalp tissues that intend to encourage the under-performing hair follicles on the scalp to grow hair.
The laser beams used are scientifically created to produce high0efficiency rays that produce maximum power and light. The diffusion of these rays has been adjusted at a clinically permitted wavelength for verified medical effectiveness.
The Hair Growth Cycle
Hair grows from follicles underneath the skin which are fed by blood vessels located at the base of the follicle. The blood gives the follicles nourishment to grow. During the hair growth cycle, the hair follicles typically undergo repetitive regenerative cycles which enable hair to grow and renew. Each regenerative cycle consists of 4 stages:
Anagen (growing phase. This growing phase determines the length of our hair and lasts between 2 and 7 years.
Catagen (transition phase). This transitional stage involves the hair follicles shrinking which signifies the end of the active growth. This lasts for around 10 days.
Telogen (resting phase). This resting phase for hair growth is where follicles become lifeless and fall out. When the hair shaft falls out, the specific hair follicle becomes inactive for a period of around 2-3 months before the growth cycle begins again.
Exogen (shedding phase). During the resting phase, approximately 50-150 hairs can fall out per day. This is considered to be normal for hair shedding.
Who is Laser Hair Growth Treatment For?
Our advanced laser therapy for hair loss is a great solution for anyone who isn't happy about their thinning hair or hair loss and who is looking for a non-surgical solution. This therapy is available in our clinic in Turkey and can be booked alongside one of our other treatments such as hair transplants, sideburn transplants or other cosmetic procedures.
Causes of Hair Loss in Males
Hair loss can occur in men in their 20s, 30s, or even late teens. Up to 50% of men will have experienced some degree of hair loss by the time they reach 50. The main reason that men experience hair loss or hair thinning is through something called androgenetic alopecia; more commonly known as male pattern baldness. Around 95% of all hair loss in men is caused by this condition and it occurs when male hormones cause certain hair follicles to shrink and produce abnormal hair with a shorter life.
Laser hair growth treatments can help you achieve a natural looking hair regrowth with long-lasting results. You should start to see a difference immediately and it will have a positive effect on you both aesthetically and mentally helping you to feel more confident.
Causes of Hair Loss in Females
Although less common, hair loss in women can occur at any stage in your life. It can affect just your scalp or your entire body. The symptoms of hair loss include thinning on top of the head, patchy bald spots, sudden loosening of hair, full body hair loss or patches of scaling that spread over your scalp.
Many things can have an effect on your hair loss or hair thinning including:
Family history in hair loss
Hormonal changes and medical conditions
Medications and supplements
Radiation therapy to the head
Going through stressful times in your life
Different hair styles and hair treatments
A number of factors can also increase your risk of hair loss including your age, family history, significant weight loss, certain medical conditions like lupus or diabetes, stress and poor nutrition.
If you have a history of hair loss in your family, there are steps that you can take to prevent this including being gentle with your hair (using gentle shampoos, using detanglers and not tugging at your hair etc.) asking your doctor about medical treatments and supplements to prevent hair loss, protecting your hair from sunlight and other sources of UV light and stopping smoking.
Benefits of Advanced Laser Therapy For Hair Loss
With our advanced laser therapy for hair loss, there is a range of benefits that are worth shouting about. Visible benefits from the treatment can occur in just 3 months, meaning you can reach your goal of fuller, thicker, softer and shinier hair quicker. The laser light energy is distributed evenly so that your full scalp receives an even dosage of the treatment.
The advanced laser therapy for hair loss stimulates the hair follicles to promote growth which can result in stronger hair with increased elasticity. Our laser hair treatment is a completely safe solution to hair loss and hair thinning and doesn't come with any side effects or pain.
Laser Hair Treatment: The Process
The process of laser hair growth treatment is painless, fast and non-invasive. During the treatment, patients will place their scalp beneath a series of low-light lasers which can be programmed specifically for your requirements. The laser moves around to address the specific areas of hair loss on the patient's head. The number of sessions you will need will depend on your individual case and your doctor will discuss this with you in your consultation
Vera Clinic uses a unique combination of ground breaking technology to help our patients of all ages, genders and walks of life feel more confident in themselves. Our advanced laser therapy for hair loss is a gentle remedy for anyone seeking more length, thickness and hair growth.
Laser Hair Treatment: What to Expect After the Treatment
Hair growth is a gradual process and you should be patient with your results. It takes time and regular treatment for your hair follicles to regenerate and stimulate growth. The following is an approximate timeline of what you can expect after your treatment.
0-3 months – an increase in shedding may occur, or you may see no change at all. If this is the case, there is nothing to worry about as shedding is an indication that the treatment has been effective
3-6 months – you should expect to see a decrease in hair loss and reduced shedding at around this time
12 months – you should start to notice visible hair growth with the appearance of your hair being thicker and fuller
24 months+ – your hair should be thicker, healthier and fuller and will continue to appear lustrous and rejuvenated
Why Choose Vera Clinic for Laser Hair Growth Treatment?
At Vera Clinic, we are extremely passionate about ensuring our patients' satisfaction no matter their treatment. Before your treatment, we will answer any questions you have regarding your procedure and discuss anything you feel you need to understand before booking your treatment.
Our experts understand the effects that hair loss has on your confidence and how your hair is directly linked to your identity. You can be sure that we are with you at every stage of your journey from consultation and diagnosis to treatment and aftercare.
We ensure long-lasting results and confidence in your decision to choose us. Our experienced and board-certified plastic surgeons and medical team are available to discuss your needs, concerns and thoughts. If you are interested in finding out more about laser hair treatment, Vera Clinic is the place for you. At Vera Clinic, we have:
Reduced costs on treatment
High-quality standards in patient care and service
World-class surgeons performing the best smart liposuction in Turkey
Accommodation arranged along with onward travel
Central Istanbul location
Laser Hair Treatment In Turkey – FAQs
Are there any side effects to laser hair growth treatment?
The therapy is painless and has no side effects. The treatment also results in increased hair strength. Consult your doctor if you want to consider laser treatment as an option to control and reverse hair loss.
How long do laser hair growth treatments last?
During the procedure, you will be placed under a machine that directs low-level lasers toward multiple areas of the scalp covering all sides of the scalp. You should expect to sit under this machine for around 20-30 minutes per session where we will provide you with entertainment or a drink. The number of sessions that you will need depends on your individual needs.
How long does advanced laser therapy for hair loss results last?
Our laser hair treatments are proven to be long-lasting, effective results. However, this can vary and will depend on the individual and sometimes, continuous treatments may be required to preserve the success of your treatment.
When should I expect to see a visible change after laser hair growth treatment?
Visible hair growth can usually be seen from around the 12 month mark following your regular treatment. However, a change in the hair loss and shedding can be noticed immediately. The timings are approximate and may differ from person to person depending on responsiveness to the treatment and frequency of the sessions.
Is there any recovery time following my laser hair treatment?
There is no down time or recovery time required for this type of treatment. You will be free to resume your normal daily activities and social routines immediately after the treatment.
How many laser hair treatment sessions will I need?
We recommend at least one treatment per week, although the total number of sessions that you will need varies from person to person. Get in touch with us for a consultation now where our specialists will discuss your expectations and give a more accurate treatment plan tailored specifically for you.