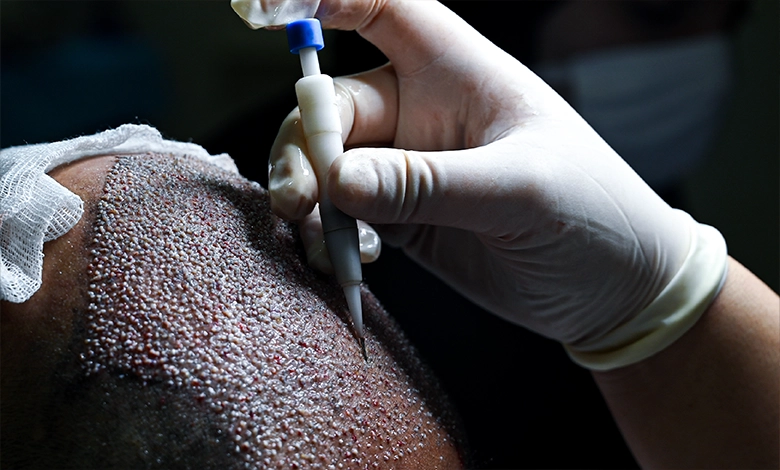 DHI Hair Transplant
Did you know that more than 85% of men experience thinning hair by the age of 50? Plus, other 50% of women will also experience hair loss over their lifetime, so it is a more common problem than most people tend to realise. This is why, at Vera Clinic, we are proud to offer our clients effective DHI hair transplants in Turkey at our state-of-the-art clinic. As you may be aware, there are several efficient options to treat hair loss, but DHI is an evolution of the standard technique used during a hair transplant in Turkey, offering full and dense results.
What is a DHI Transplant?
DHI, or Direct Hair Implantation, is a hair transplant technique offered in Turkey. It involves extracting hair follicles from the donor area and directly implanting them into the balding area of your scalp. This method allows for precise placement of the grafts without the need to shave the head beforehand.
What Pens Are Used in a DHI Hair Transplant?
The pens that are used for direct hair implantation in Turkey are hollow and have a spring-loaded mechanism that pushes the tip when pressed. It then pierces the skin and leaves the graft inside. These special pens were first developed for fine hair and pens for thicker hair were introduced to the market later down the line.
As direct hair implantation Turkey is the most preferred method of hair transplant today, Vera Clinic is known to be one of the best DHI clinics in Turkey. DHI hair transplant can be divided into two main phases extraction and implantation. The process includes FUE or FUT extraction techniques to harvest the grafts and then transplant them using the implanter pen. This pen technique is used to place the grafts one by one and press.
DHI hair transplants in Turkey require more people to work in the surgical team than other hair transplant techniques and the procedure lasts longer. However, the advantages of this procedure involve a more natural-looking result.
Benefits of a DHI Hair Transplant
Because of the innovative way that the DHI hair transplant in Turkey is carried out, there are many benefits to this type of procedure:
The amount of time the grafts spend outside of the body is greatly reduced due to the pen that's used, this means there are greater survival rates for the transplanted hair follicles
There is a significantly lower risk of bleeding on the recipient site
You should expect a faster recovery from the procedure and you can resume normal activities sooner than other types of hair transplants
The grafts experience less trauma during this procedure compared to others which leads to healthier final results
There is no need to shave your head in preparation for this procedure meaning you can feel confident for longer. This means this procedure is the perfect choice for patients with longer hair
The DHI Procedure
As DHI hair transplants in Turkey are modified versions of the FUE treatment, they follow a similar procedure. A simple version of the procedure entails your surgeon removing hair follicles from an area of your scalp where there is healthy hair growth, usually the back of your head, and then implanting these into balding areas. These healthy hair follicles will eventually grow new hairs, giving you a fuller head of hair.
Here is a breakdown of what you can expect from the best DHI clinic in Turkey:
The surgeon will shave the head and apply local anaesthesia to numb the area
Next, using a special tool with a fine tip, the surgeon will extract hair follicles from the back of your head
The healthy hair follicles will be loaded into a 'pen-shaped' tool and directly implanted into the balding area of your scalp
Once this is complete, antibiotic cream and bandages are applied to all sites for optimal recovery
Who Is Eligible For a DHI Hair Transplant In Turkey?
DHI hair transplant in a hair transplant clinic Turkey is suitable for anyone seeking a hair transplant. It is particularly beneficial for those who want to avoid shaving their head, which can be a traumatic experience for many individuals. People in representative roles who need to conceal the transplant also prefer it.
How To Prepare For Your DHI Hair Transplant In Turkey
You should take a few steps before your DHI hair transplant in Turkey to ensure smooth surgery and satisfactory results.
Three weeks before the surgery: provide your hair transplant surgeon with your complete medical history and disclose any medications you take. Quit smoking, including e-cigarettes, at least three weeks before the procedure to reduce risks and promote a faster recovery.
One week before the surgery: Avoid herbal tea and stop taking herbal supplements. Discontinue the use of blood-thinning medications like aspirin or ibuprofen. Inform your hair transplant surgeon if you require painkillers without paracetamol.
The night before and the morning of the surgery: Refrain from eating or drinking anything for eight hours. Shower and thoroughly clean your hair and scalp, avoiding styling products. Dress in clothing you can easily remove from your head, such as a wide-neck t-shirt or a button-down top.
DHI Hair Transplant Recovery
After your DHI hair transplant, it's crucial to follow the post-operative instructions provided by your hair transplant surgeon in the hair transplant clinic Turkey. These may include the following:
The first hair wash should be 36 hours later, as instructed by the doctor, typically at the hair transplant clinic Turkey.
Sleep at a 15-degree angle to minimize swelling.
Follow the doctor's instructions for daily hair washing after the first wash. Gently dry your hair with a soft towel, avoiding pressure. If necessary, use a hairdryer in the cold setting.
Expect scabbing around the transplanted area, which should disappear within 15 days. Contact your doctor if it persists.
Protect your hair from direct sunlight, seawater, and pool water for 2 to 4 weeks.
Avoid external pressure or impacts on your scalp.
Take any prescribed medications as instructed by your hair transplant surgeon hair transplant clinic Turkey.
DHI Hair Transplant Turkey Price
The cost of DHI hair transplants Turkey is generally lower than in the UK, considering factors such as domestic manufacturing and reduced logistical expenses. The price will be determined during your consultation hair transplant clinic Turkey based on the number of grafts needed.
For a personalized quote and advice, please get in touch with us today. Vera Clinic is the best hair transplant clinic Turkey, will provide you with the necessary information and support.
DHI Hair Transplant in Turkey FAQs
Will I experience pain after my DHI hair transplant in Turkey?
DHI hair transplants in Turkey are painless when performed under appropriate conditions. Our experienced team ensures a pain-free experience.
How long does a DHI hair transplant take?
Depending on the technique and number of grafts needed, a DHI hair transplant may take 6 to 8 hours hair transplant clinic Turkey, depending on the technique and number of grafts needed—plan for 2 to 3 days, including the surgery and post-operative period.
Will my transplanted hair fall out?
Shedding occurs around 3 weeks to 1 month after the transplant, but the follicles remain intact. Hair shedding is normal, and new growth should start within 3 months, with full results visible within a year.
How long does it take to recover from a DHI hair transplant Turkey?
Scabbing may occur for the first 15 days, and shedding may happen in the first month. Hair growth begins around the third month; typically, you will see the final results within a year.
What's the difference between DHI and FUE hair transplants?
DHI and FUE are standard hair transplant methods. Unlike FUE, DHI involves immediate implantation after extraction, eliminating the need to create channels first.
Is a DHI hair transplant Turkey permanent?
DHI hair transplants provide permanent and natural-looking results after the initial shedding process.
Holen Sie sich eine kostenlose Beratung